Middle school baseball wins championship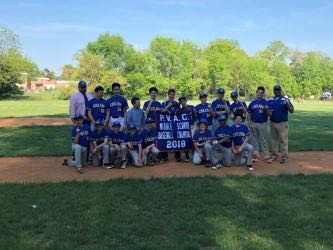 Hang on for a minute...we're trying to find some more stories you might like.
On May 8, the CESJDS middle school boys baseball team won the PVAC championship 10-0 against Saint Anselm's.
The Lions went undefeated in what head coach Brian Westerman called an "unbelievable season," finishing with an overall record of 7-0. The team won every one of their games by at least double digits, including their semifinal 25-0 shutout against Hebrew Academy.
"[W]e outscored our opponents 115-5 and that speaks to our pitchers," assistant coach Robert Labovitz said.  "At the championship game, Seventh grader and team captain Jonah Gross pitched five innings of shutout baseball and everybody played their best."
Gross said that he felt a lot of pressure as the pitcher, but that all of the stress was worth it in the end.
"It felt really good since we worked the whole season for it and we had all the practices and all our games paid off when we finally won the championship," Gross said.
Westerman also had some specific strategies that he felt helped the team as a whole.
"Some strategies I like to apply during games is to be aggressive on the base path, where we try to steal as many bases as possible during each game," Westerman said. "When it comes to fielding, I like to keep each player on the field a little deeper, especially in the outfield, because it is easier to recover forward and field a ball then backward."
Labovitz felt that all the time in practice paid off when it came to the games.  They made sure to work on simple skills such as pitching and fielding with their players which led them to their championship win.
"We practiced and coached our guys as well as we could in practice so when we got to the game, it was on them," Labovitz said.