Not your average high school diploma: Community explores alternate routes towards an education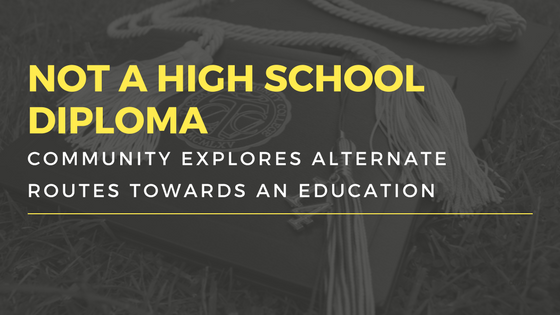 Hang on for a minute...we're trying to find some more stories you might like.
While stopping one's high school career is often thought to be a bad thing and the end of one's education, that is not true for everyone. Some people continue their education by taking the path to get a GED, which is what Jewish text teacher Lindsay Goldman did.
A high school diploma shows that someone has finished a course of study in the more traditional route, while a Graduation Equivalency Diploma (GED) shows that a person has completed a course of education through an alternative path.
There are a few different routes to get a GED. Options can include receiving one online, through correspondence courses, which are packets that people are meant to fill out in order to get their GED rather than going to classes, or by going to the local community college.
"Depending on where you want to go in life and what you want to do in life and what your next stage is, a GED might not be looked upon as favorably as a high school diploma," Academic Dean Aileen Goldstein said.
According to GED Testing Service, in 2017 the GED tests had an average of 86%, whereas according to the Department of Education 83% of people in public schools graduated high school in 2015, but it is less common to leave high school and to go the GED route at CESJDS.
Director of College Counseling Sue Rexford gave a few reasons as to why people would take the GED path rather than finishing high school. The students who normally leave JDS leave for health reasons or behavioral issues, according to Rexford.
"Those, typically from a school like JDS, would be the two reasons that a student would consider going the GED route rather than finishing high school and getting a high school diploma," Rexford said.
Rexford said that throughout her career at JDS she believes there has been at most one student who left school to pursue a GED.
Goldstein believes that the only person who left JDS for a GED did not leave based on the education received here, but rather that the student did not want to complete community service hours.
While there have not been any previous students at JDS who have gone through the process of getting a GED, there is a teacher who has. Goldman dropped out of school at age 16 because she was dissatisfied at her high school and wanted to leave.
When making the decision, Goldman made a list of things that she would miss about her high school and she noticed that the list was very short.
"There were definitely things where I was like, I'm not going to go to my senior prom with my high school boyfriend … and everyone went on the 12th grade Israel trip and I was just home," Goldman said. "It was just a weird dynamic that honestly I definitely did not think through long term. I just thought of the immediacy of that I just don't want to be here anymore, how can I leave?"
After deciding to leave high school, Goldman had to start formulating a plan to get a GED. She decided to apply for a program at her local community college called "Mentor Talented Students." The program was for students who wanted to start college early.
Throughout the program, Goldman took certain courses to fulfill the requirements to get a GED. Goldman had attended a private Jewish school and the credits she had from her school did not match up with the state's requirements, so she used the credits she got from the new courses that she took and put them towards her GED.
According to Goldman, it was not a challenge to apply and be accepted to college with a GED instead of a high school diploma. "I think it was a lot easier, actually," Goldman said. Goldman was accepted to New York University and credits her acceptance into the school on the fact that transfer GPAs, such as hers from the community college, can be lower than upcoming college freshman GPAs.
In contrast, Rexford believes that being accepted to colleges with a GED is more challenging than getting accepted with a diploma.
"When you are applying to college, you would have to explain away any reason that you did not finish high school at your high school," Rexford said.
Although Rexford thinks that having a GED makes it more challenging to get into college, high school is not for everyone and some people may want to take an alternative route to get their education.
"High school is not for everybody as much as in our world it generally is accepted that that's what you do and it is the appropriate and expected thing, it's not always and some people might turn around and get a vocational education instead, or do something that is more skills based as opposed to knowledge," Goldstein said.