Town Hall sparks discussion of student involvement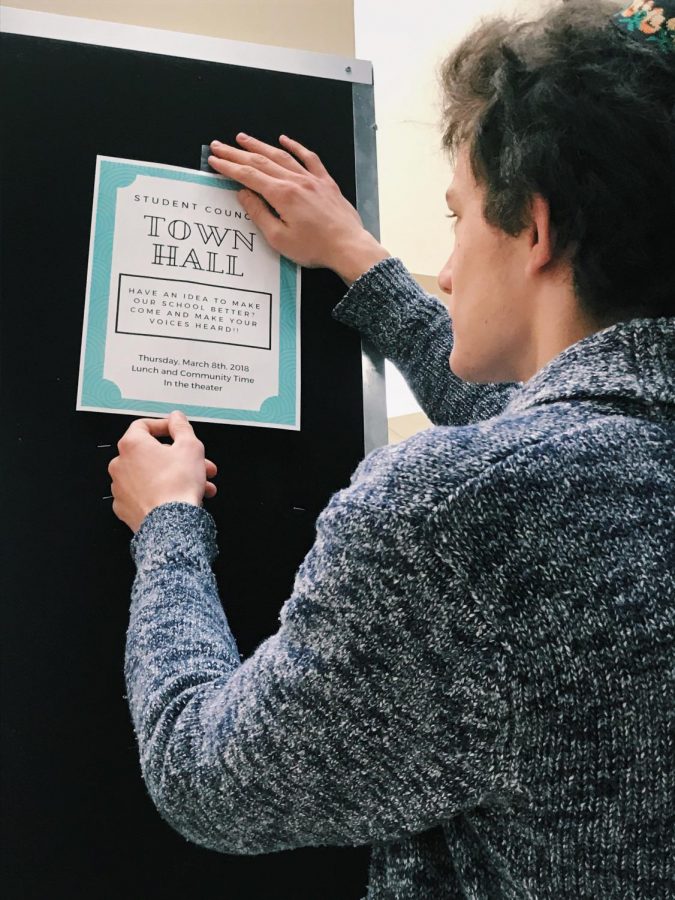 Students discussed their concerns and grievances during a town hall led by the student council on Thursday, March 8.
During the meeting, High School Principal and Associate Head of School Marc Lindner, Dean of Students Roz Landy and student council adviser Rachel Bergstein listened as 16 students expressed their opinions, and offered their own views as well.
"I think that town halls are an excellent way for students to talk freely about JDS and to give positive and constructive feedback about the school," sophomore class representative Maya Bellas said.  "Everyone deserves a chance to talk about what they are passionate about."
Level placements were among the topics students expressed their passion about during the meeting. Student council proposed a possible solution of releasing a survey before placement recommendations are sent out that asks students what level they would like to be placed in, in order for teachers to take their opinions into account.
Other academic issues discussed were class sizes, mixed-grade classes, course registration, advanced course offerings and teacher-student conferences.
Students also brought up non-academic issues, such as the kippot policy and school safety. In particular, students debated the recent letter signed by Head of School Rabbi Malkus, as well as other heads of Jewish day schools around the country, regarding gun control in schools.
While discussions involving political views can become heated, Bergstein thinks they are vital.
"We really want to serve as a liaison between the student body and the administration, and to affect change in school through the voices of students," Bergstein said.
Day to day operations of the school were also discussed, including the new lunch program. They spoke about the lack of healthy choices offered and long lunch lines, which faculty said they would try to address soon.
Junior Henry Goldberg attended the town hall because a friend asked him to tag along. While he did participate in the discussion, he does not think they will prompt significant changes.
"Maybe not all of these town halls will cause change, but it is important to have these conversations, and at least have these brainstorms," Goldberg said.
While only 10 students who weren't on student council attended the meeting, the class representatives still believe town halls prompt important discussions and should continue at JDS.
"I think it was very successful, but I want even more people to come in the future to voice their concerns and to have a discussion where people from multiple grades can give their perspectives," Bellas said. "We are the student body, we make up the school, so it is our job to make an impact and do everything we can to show that we can make a difference."