Poets and Pitchers write championship story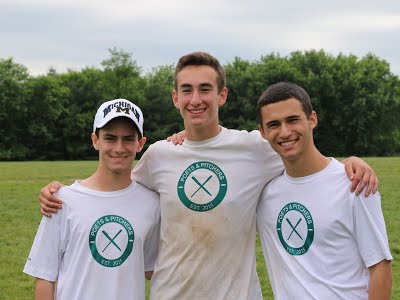 Hang on for a minute...we're trying to find some more stories you might like.
Poets and Pitchers, an inter-school Ultimate Frisbee team including students from Walter Johnson High School, Walt Whitman High School, the Field School and CESJDS won the Maryland ultimate frisbee state championship on Sunday, May 21.
Poets and Pitchers, coached by Walter Johnson High School parent Barney Krucoff, practices regularly from five to seven on Tuesdays and Thursdays. The team started as a compilation of students from Walter Johnson and Walt Whitman in 2015.
While JDS had a small, unofficial, ultimate frisbee club, there was never a competitive space for the students to truly grow as players.
"It was hard to organize because we didn't have a league for it," junior and Poets and Pitchers captain Joey Shoyer said.
According to sophomore Gabriel Stillman, it was also difficult to organize the club because not that many JDS students play ultimate frisbee.
Alumnus Jonah Eisen ('17) had a relative that is a Walter Johnson student, Josh Eisen, who was on the team. Jonah brought many other JDS players to join, including Shoyer. Although many JDS players are on the team, it is not affiliated with the school.  
According to Shoyer, the inter-school team allows the players to come together to create a team that could not each exist on their own but can combine to create a larger team.
Krucoff believes that after JDS and the Field School joined, the team has solidified because, without them, Krucoff would have to scramble for other Walter Johnson and Whitman players.
The large number of players on the team also was beneficial because it allowed for better development.
"For the more advanced kids, they get to play at a higher level and I don't need to pull them out of the game for the kids who are younger and learning," Krucoff said. "The kids who are younger and learning can then play on their own team. They get more time to play and they learn."
As more JDS players have joined the team, they added a JDS and Field captain in addition to the Walter Johnson and Whitman captains. The captains work together to organize and run practices and create cheers to keep up the spirit, but they also communicate with the other players about the details of tournaments and practices.
Because the team is a mix of students from different schools and different leagues, the team was faced with some difficulties as the Ultimate Frisbee Maryland States tournament approached.
They received complaints about how the team was combined and that students from the Field school were on the team even though the school is in D.C. Krucoff discussed a few situations with the tournament coordinators, USA Ultimate, and decided to split up Poets and Pitchers into a team of public school students and a team of private school students.  
"I've had received questions from other coaches and I knew that we would get more questions if we didn't split up for States," Krucoff said.
The players were initially upset about the divide, but once it was finalized their reaction changed. Some of the Field students suggested that they not play so that Poets and Pitchers could play as a full team; however, Krucoff declined that suggestion, which he still believes was the right decision.
"While it did not make much of a difference it was still very irritating because we are a team and we are close," Stillman said.
When the tournament finally came on May 20 and May 21, Krucoff went back and forth coaching whichever games he thought were more important. When the two extension teams of Poets and Pitchers played each other, Krucoff coached the public school team as his children were on that team.
The private school section of the team, called Private Stock, ended up winning the Maryland State Championships.
"It really was for the whole team because regardless of if you played in that game or where you were at the time even if you couldn't come to the tournament, you're a member of the best team in the state of Maryland," Shoyer said.