Learning on the job
A transformative summer at the Holocaust Museum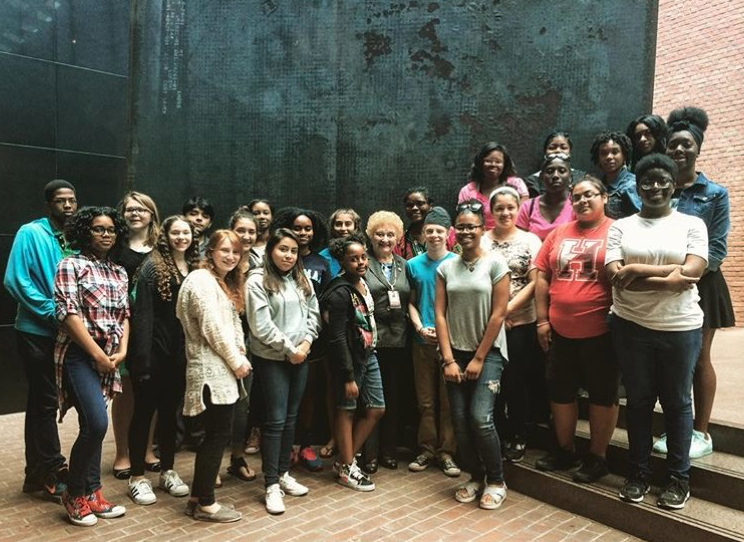 Summer hasn't been my favorite season for a long time. I've always associated it with hot weather, bugs, my friends leaving for summer camp and the stress of not knowing what to do with two months of freedom from school. After realizing sleepaway camp was not for me, my summers usually consisted of day camps, leadership workshops, community service and lounging on the couch. This all changed when I joined the Bringing the Lessons Home (BTLH) program at the United States Holocaust Memorial Museum (USHMM) in Washington, D.C.
For the past couple of summers, I sat at the USHMM donation desk with my grandma and Holocaust survivor, Nesse Godin every Wednesday. Visitors would ask her about her experience during the Holocaust, while I told them where the bathrooms and gift shops were. Although my role at the museum may have been useful for tourists, I wished that I had a more responsible job.
One day at the museum, an employee came up to me and told me about BTLH, where students learn about the Holocaust, how to give museum tours and how to bring lessons learned from history back to their own communities. He explained to me that it would be a great honor to teach the granddaughter of Nesse Godin, but initially I was unsure if I wanted to join. What if he only wanted me there because of my grandma? After talking to my parents, I decided to give the program a try.
As a first-year student in BTLH, my experience began in late February 2016. Every Saturday for 14 weeks, with about 30 other students, I went to the USHMM for a class. We learned about various perspectives on the Holocaust and about the individuals who were responsible for the genocide. We were assigned homework, which surprisingly was something that I didn't dread. The work mostly consisted of writing scripts for our tours, reading from textbooks and answering questions about the readings and what we learned in class.
The final test in BTLH was to give a tour of the permanent exhibition. On June 18, I was nervous to give my first two-and-a-half hour tour, without notes, to my family. We were reminded before the tour that we were not historians, so we do not have to be perfect. Later one of my teachers, Russell Garnett, said, "It's okay to make mistakes and it's okay to not know the answer … sometimes it takes mistakes to get better." His advice helped me recognize that if my first tour wasn't perfect, it wasn't the end of the world.
With shaky hands I completed the tour, graduated from BTLH and became an ambassador of the USHMM. My next step was to join the Stephen Tyrone Johns Summer Leadership Program, which is part of a three-year BTLH summer program. As a first-year ambassador, I learned how to perfect my tour and how to give tours of other museum exhibits.
The first week of this summer was pretty awkward because I didn't know anyone, but during the 200 plus hours I spent with my fellow first-year ambassadors I got much closer with them. Karla Mejia, a fellow first-year ambassador, was surprised at how much her "whole perspective on things changed a little bit" after joining the program and how even though "we were learning the history and the facts, we were also learning about one another."
With the other first-year ambassadors, I went to a one-week leadership seminar at George Washington University where I met people around my age from all across America who were passionate about leadership. There, I learned about different ways people view the Holocaust, one of which was from Gabrielle Johnson from Birmingham, Ala. who was a part of a summer program at the Birmingham Civil Rights Institute. Johnson related the Holocaust back to civil rights and explained that in both occurrences, people looked at those different than themselves as inferior.
After hearing a new perspective about the Holocaust from Johnson, I understood the meaning of "bringing the lessons home." Her words opened my eyes to the importance of reaching out and learning from others. In my opinion, what's amazing is that Johnson and I didn't have to be adults to reach this conclusion, an idea that was one of the original goals of the program. According to Lynn Williams, one of the first coordinators of BTLH, one reason that the program was created was because she believed that "young people understand and want to understand how they can make a difference and do great things."
The other kids in my program also impacted me greatly. Summer used to be something that I didn't look forward to, but everyone I met this summer helped me see another side of the two-month break that I hadn't experienced in a while. Through BTLH, I matured and grew into a new person.
One may think that BTLH is too much like school to be a fun program. Yes, there was homework, two-and-a-half hour tours and information overload, but it was all worth it. My teachers became mentors and my friends became family. According to the Director of the USHMM Sara Bloomfield, the experience of BTLH stays with the ambassadors throughout their lives because through the program students "feel transformed and when they are transformed that means they will go out and transform other people." I agree that I too have been "transformed" as a person, and also in how I view the Holocaust.
Before joining BTLH, I never knew about the actual history behind the Holocaust and how many factors contributed to the tragedy. BTLH opened my eyes to how much power individuals have and how that power can be either abused or used in positive ways. As I go into my sophomore year, I now finally have a summer to look forward to.