Seven grades, one building, still united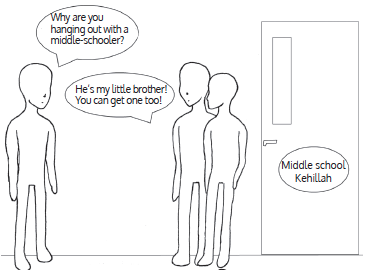 Whether it be sharing teachers, classrooms or a cafeteria, we have never felt a large separation between the middle school and high school until this year, and despite new changes this year, there is no reason to let this separation increase.
This year, the high school and middle school are essentially two distinct entities as they have two different schedules and are located on opposite ends of the building. Almost all teachers now teach exclusively middle school or high school classes, and there will even be bells meant only for middle school students.
Although there are significant changes, we believe that it is of the utmost importance to view them in a positive light and take advantage of the new community-building opportunities that come with them.
One of these new offerings is the Big Brothers and Big Sisters program, which will incorporate upperclassmen into middle school Kehillahs in order to foster a connection between older and younger students. Huggim, which takes place on Fridays during high school lunch, is a time designated for middle school clubs during which high-schoolers can volunteer to lead programming.
Administration and our peers have set up these opportunities, but they can only be fully taken advantage of if we take the initiative to join them. This attitude is not restricted to scheduled programming, but must also carry over to outside the classroom.
As part of the responsibility to act as role models, high school students should be a positive and supportive presence in the middle school. It can be as simple as not using phones or cursing in the hallways. Even small gestures like a welcoming smile can go a long way.
We strongly believe that the whole is greater than the sum of its parts, and that the best way to meet these new changes is together. Even though the middle school and the high school are now more separate, it is beneficial to our community to work together and create a cohesive student body.
The example that is set for the younger students in the present is the example we hope that they will set in the future. This type of cycle is the kind of behavior we need to create a long lasting united school community.