Moms and alumni kick it with Krav Maga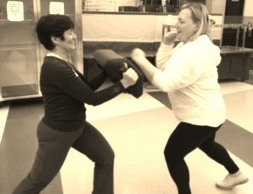 Hang on for a minute...we're trying to find some more stories you might like.
The Upper School cafeteria echoed with kicks and punches as 18 CESJDS alumni and parents participated in a one-time Krav Maga class for women taught by Krav Maga Maryland.
JDS Israeli Community Liaison Roni Samson organized and brought the Krav Maga session to JDS on Wednesday, Nov. 9. Prior to moving with her family to America, Samson participated in a number of Krav Maga workshops in Israel, which inspired her to arrange the class.
Krav Maga is a method of self-defense founded by the Israeli Defense Forces (IDF) that combines mixed martial arts like judo, boxing and wrestling. In the mid-1930s, Krav Maga was created by a martial artist Imi Lichtenfeld in order to defend himself from anti-Semitic violence in Bratislava, Czechoslovakia. Shortly after, Lichtenfeld became the Chief Instructor for Physical Fitness at the IDF School of Combat Fitness and introduced Krav Maga to the IDF.
"I am very proud of Krav Maga because it is an Israeli invention that can make a change in someone's life," Samson said.
The class discussed awareness of personal space, practiced hitting and punching techniques and went over exercises on how to break out of a choke hold. The goal of the session was for the women to learn how to handle themselves if they are ever in a dangerous situation.
Samson feels Krav Maga is especially important for women, as she has been comforted knowing her Krav Maga skills can protect her in unsafe situations. The JDS class took place 78 years after the night of Kristallnacht, which made the class even more meaningful for Samson.
"I want to know that I'm a strong woman and that I can defend myself," Samson said.
According to Samson, recruiting participants was not a challenge. After the class, many participants asked if there would be an opportunity for another class.
"I didn't need to promote it as much, because many women want [the Krav Maga class] and have heard about it, but do not have a chance to try it," Samson said.
Bonni Berger, mother of sophomore Ilan Gasko, has always been interested in self-defense, but participated in the Krav Maga class mainly because of its Israeli roots. She left the session with newfound knowledge of Israeli culture, and of the martial art.
"We learned that Krav Maga is first and foremost building your confidence to defend yourself," Berger said. "The most important thing is not about your size or how strong you are, but finding the soft spots in your attacker and using leverage."
Sharon Pohoryles, mother of sophomores Isaac and Macie Gelb, also has an interest in self-defense and felt that it was important for her to try her hand at Krav Maga. Pohoryles said that it was especially meaningful that the class was only made up of women.
"There is a perception that women don't always vocalize their true feelings in public and just having women there created a safe space and a feeling of empowerment for women," Pohoryles said.