Concert Review: The Fray and American Authors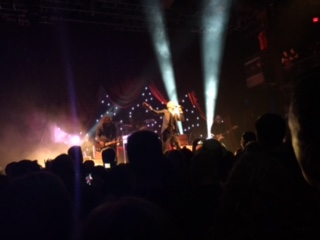 This past Tuesday, I had the chance to hear one of my favorite bands perform in concert: The Fray. Not only were they spectacular, but also the opening act, American Authors, was just as amazing. Any person who would have the privilege to see The Fray live in concert would fall in love with their music, even if they had no clue who they were.
The concert started out with American Authors who performed a couple songs, including their hit single, "The Best Day of My Life." The high-energy, feel-good song set the mood for the rest of the concert.
When The Fray came on, they exceeded my expectations. The Fray is a rock band from Denver who have been together since 2002. Their setlist included some of my favorite songs such as "Over My Head (Cable Car)," "You Found Me," "How to Save a Life" and "Heartbeat." The Fray performed most of their songs how they were originally recorded, but they also did an acoustic section which showed the audience that they could slow down their songs and still sound amazing. The band also  performed a few covers, including Oasis' "Wonderwall" and Kanye's "Heartless."
The Fray is one of those bands who perform even better live than on their album. Seeing The Fray live was also fun because the performers talked to the audience at the concert.
The venue for the concert was The Fillmore in Silver Spring, Md. It's mainly one big room with a stage and most of the tickets are general admission unless the ticket is for the balcony. Having this setup made the concert a lot more intimate which in turn made it more enjoyable because it made it feel as though the audience was part of the concert.
I would absolutely recommend seeing both The Fray and American Authors live. Both bands have amazing musicians and are sensational performers. Even if you are not familiar with their music, the concert is worth going to. If you can't see The Fray, go to any concert at The Fillmore because it makes the experience a lot more personal and therefore more enjoyable than a concert in a larger venue.