When art and literature come together: Artist Debra Band visits middle school English class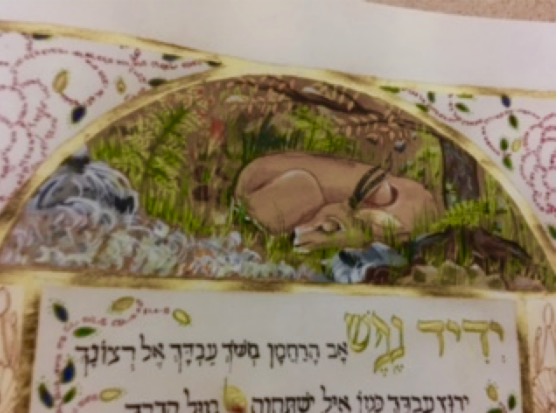 Artist Debra Band visited middle school English teacher Annette Lakein's eighth grade English class on Oct. 10 to help students explore themes from Elie Wiesel's "Night" through art.
Band has published four books of Hebrew illuminated manuscripts, including "I Will Wake the Dawn."
"That's what interests me, how I can take a psalm and tell you so much more about the thoughts embedded within it by showing you pictures about it," Band said.
Although Band has known Lakein for many years, this was the first time she made an appearance in her class. During her presentation, Band explained the process of creating her artwork, which happened to be very similar to the project Lakein's class was in the process of making. Band starts off every art piece by picking a text to study and breaking it down. Before she begins to draw, she writes down everything she wants her illustration to symbolize.
"A painting is not just a depiction of literal events," Band said. "You are trying to get to the guts of the emotions and the thoughts involved."
Lakein explained that the writing process becomes easier for students when their thoughts are drawn out right in front of them in the form of a visual journal. The project starts out with the students picking quotes to analyze and then developing a theme which will later be turned into an essay. Then they illustrate their findings through images that express deeper meanings.
Although the Visual Journal has been an annual project for many years, this year Lakein decided to dive deeper into her students' close readings.  By inviting Band to her class, Lakein was able to give the students a more in depth insight on what it meant to illustrate "expressing faith in the face of fear" — a major theme in "Night." Eighth-grader Samuel Brophy explained how Band's presentation helped him see his project in a new light.
"I thought more about what my artwork was and what my drawings were instead of just drawing something." Brophy said.
Band began to study art in college, but switched to study medieval European history, art history and Jewish studies. It was not until she completed the birth announcement for her first son that she realised how much her art skills had weakened over time. After she had her second son, Band decided to rekindle her love of art by studying Hebrew calligraphy and paper cutting.
"Voom, everything just fell together instantly," Band said. "I've been doing [art] full time for about 30 years."