Q&A with Seth Eisenstein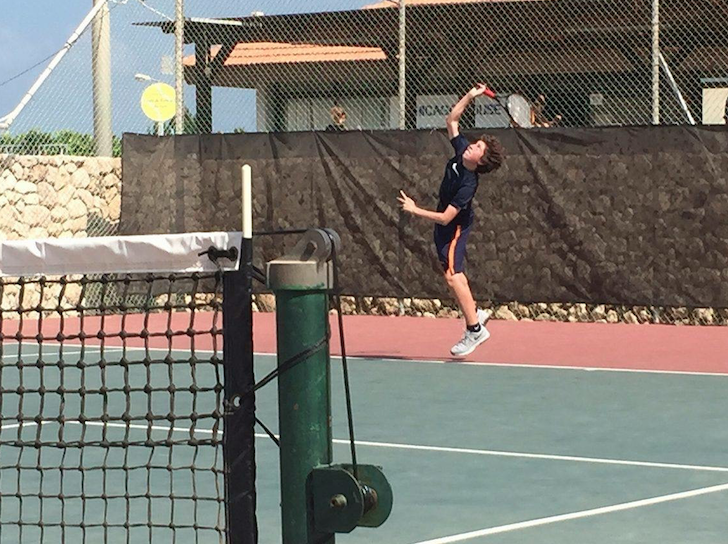 Lion's Tale: How long have you been playing tennis?
Seth Eisenstein: I've been playing for about nine years, since I was five or six.
LT: Why were you interested in playing tennis?
SE: My cousin was a really big tennis player and she got me my first racquet, so that's how I started. I used to hit [tennis balls] with my dad. I played a few other sports, when I was probably six, seven or eight, but I then I missed playing tennis so I went back to it.
LT: Did you take lessons?
SE: I took lessons a little bit when I was younger, but mostly when I was nine and older, when I played the most.
LT: Now you play on the school team, but do you also play outside of school?
SE: Yeah, I play all year round. Right now I play at Bullis, which is a school in Potomac, so that's where I take group lessons, but then I also play tournaments with the USTA, which is the United States Tennis Association, so I play singles tournaments sometimes on weekends with that.
LT: How often do you have a tournament outside of school?
SE: There are tournaments every weekend, and some are closer than others. There are a bunch of tournaments every weekend in the Mid-Atlantic, but I basically just choose the ones that I want to play, so it's not like I have one every weekend or one every two weeks. I sort of just determine my own schedule, which is cool. Usually I play the most in spring and summer, so I probably play two tournaments a month in spring and summer.
LT: Have you ever won a tournament?
SE: I've never won a tournament, but I win matches a lot.
LT: Do you also enjoy watching tennis?
SE: Yeah, I really like watching tennis, watching all the good players, and I'm actually going to a tournament this weekend to watch a professional tournament.
LT: Who are your favorite tennis players and why do you like them so much?
SE: My favorites are Roger Federer and Maria Sharapova. I think they just have really great sportsmanship and they're really good role models for younger tennis players. They've been playing a really long time and they know how to win, but at the same time, they're modest, they're not out there, they're not getting in your face with how good they are. They're sort of modest and they're good role models for younger tennis players who want to get to high levels of tennis.
LT: Do you hope to continue playing tennis throughout high school and into college?
SE: Yeah, I'm really enjoying playing on the [school] team. I [have] played on it since sixth grade, so I'm really enjoying that, and I want to, I guess, go as far as I can in terms of playing in college, too, and beyond that.
LT: Lastly, what is your favorite part of playing tennis?
SE: I just think it's a really great sport; it's a really great game. I like how it's individual, so I'm able to control my results and I don't have to rely on anyone else. I can only blame myself, and I can only work harder myself to improve, so I think that's a really important part of tennis, which I enjoy. I also just think it's a great sport. I also think it's really great that you can play tennis your whole life. You can play when you're young, old, middle-aged, no matter how old you are. That's another great thing about tennis.