Q&A with Eliana Gropman

5

min read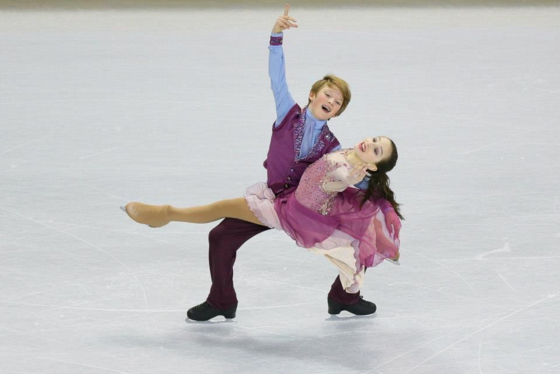 Hang on for a minute...we're trying to find some more stories you might like.
Lion's Tale: How long have you been ice dancing for?
Eliana Gropman: I've been [regular ice] skating for 11 years and I've been [specifically] ice dancing for probably seven or eight years. I started with my partner about seven or eight years ago.
LT: How did you meet your partner?
EG: At the place I was training it was a basic skills program where they matched people up.  
LT: Why did you originally start ice dancing?
EG: When I was taking group lessons in the learn to skate program, one of the coaches approached me and asked me if I wanted to try out for their program. I said yes, and their program was ice dancing, and I loved it so I stuck with it.
LT: What is your favorite thing about ice dancing?
EG: I like how when you're skating you don't really think about anything and you're just free.
LT: I heard that one of your most recent events was a competition in Germany, what was that like?
EG: It was a really fun experience because it was our first competition out of the United States.  In September we had an international competition that was held in the United States but this was a really nice feel for what it's actually like to compete out of the country. Plus this was my first time going out of the country.
LT: When you say "our" first time, is that just you and your partner or are you with a larger group/team?
EG: Me and my partner and the group that we went with.  We were the only people who went in our level.  In the level below us there were three people that went and two of them trained with us every single day.
LT: What are these levels?
EG: We are in "junior" and the level below us is called "advanced novice" and the level above us (the U.S. didn't have any teams) is called "senior" and that's the level you see at the Olympics.
LT: How did you do in the competition?
EG: We did really well. We had new personal and season best scores and we came in second.
LT: Who did you compete against?
EG: We competed against 18 or 19 other teams from a bunch of different countries.
LT: How often do you compete in tournaments?
EG: In general, not counting the off season, (February to April) we have about one competition a month.
LT: What was the experience like competing in another country?
EG: The experience was really great and it was really interesting to have all the different languages from the other competitors from different countries, not just German. The town was not a Vegas [type] city. It was really nice because you got to walk everywhere and it was really nice to be able to represent the United States and do so well.
LT: What is the best you have ever placed?
EG: We have won both juvenile and intermediate national championships, along with multiple other competitions.
LT: What kind of preparation goes into all of this?
EG: When we found out we were on the way home from another competition and we found out with three weeks until the competition in Germany so we didn't really have that much time [to prepare].  The preparation wasn't really any different than the usual.  We just ran through our programs and tried to fine tune everything.  
LT: Why is ice dancing important to you?
EG: It's unique because when people think of skating they don't necessarily think of ice dancing and a lot of people don't really know what it is.  They just think of ladies and men with all the jumps and spins so I think it's unique and special.
LT: Do you think it has shaped the person you are today? How so?
EG: It's made me pay more close attention to details and made me more focused. It's taught me how to [manage] my time spent on things.
LT: When and where is your next major competition?
EG: It's probably going to be in July in New York.  We go up to Lake Placid New York every summer for the competition.  At the beginning of the season there a couple of minor ones that are local but that is the first big one of the season.
LT: Do you plan to continue your ice dancing career in the future?
EG: Yeah, I hope to.
LT: In college?
EG: I don't really know how all of that works yet.  I think we are gonna try to figure [it] out because for the people who just won the Olympics, they tried to spread college out more so that they could train partially and handle college as well so I think we might consider doing something like that.
LT: Do you have Olympic aspirations?
EG: Yeah, almost every skater has a dream to go to the Olympics.
LT: What has been your favorite experience so far throughout your career?
EG: Probably Germany because it was really pretty and it was an interesting experience because it was the first time experiencing and international competition out of the U.S.  
LT: Finally, looking back on your ice dancing experience, what has been the most meaningful thing about it thus far?
EG: Being able to do what I love and represent the U.S. at the same time.