Spring players to watch
Look out for these stars in the new sports season
Varsity Baseball, Andrew Lefkowitz
Junior and co-captain of the varsity baseball team Andrew Lefkowitz is an avid baseball fan who has been playing since the age of four. Last season, Lefkowitz played multiple positions including first base and in the outfield. He had the second-highest batting average on the team of .409, the highest on-base percentage of  .552 and a .682 slugging average, also best on the team. 
This year, he will take on the role of main pitcher. Lefkowitz expects a lot from his team, especially because of their controversial elimination last season in the semifinals. "My expectation for the team is to win a championship. Last year we came short because of a stupid ruling, but hopefully, this year will be different and we can win the championship," Lefkowitz said.
Varsity Boys Volleyball, Itai Topolosky
Junior Itai Toplosky is one of the best spikers and best servers on the boys volleyball team. Last season was a great season for the team as they went 11-4 and lost in the semifinals. Toplosky has started every game of the season so far, and is one of the most reliable players on the team. Due to his strong spike, teammates feed the ball to him so he can smash it across the net. Throughout his volleyball career, Toplosky's main goal has always been to have fun.
For the past three seasons, he has played as both a setter and a spiker. He also loves the community of the team and the new friends he has made. Like all juniors, this will be Toplosky's last spring sports season at JDS. He hopes to make a great run in the playoffs and enjoy himself this season. "I think we will go far in the playoffs… All I want to do is have fun and a great time, just enjoy my last season," Topolosky said. 
Varsity Softball, Josie Silverberg
Despite it only being her second season playing softball, sophomore Josie Silverberg is a valuable member of her team because she is a well-rounded player that can play most positions. She is the starting shortstop and a talented hitter as well. Her best skill, however, is fielding. This comes from her previous expertise playing baseball outside of school in previous years. She has great knowledge of the game and will always make a heads-up play. 
She loves being part of the team, which she said has such an amazing community. In addition, there are many new players on the team this year, and Silverberg hopes to help them develop their skills and make connections with them. "There are a lot of talented new players this year and we have much more depth than we did last year," Silverberg said. "We are much more solid and evenly spread as a team and I look forward to what this year will bring. I have faith in our team and I have a feeling it's gonna be a good season."
Track and Field, Eve Sharp
Although it is only her first year on the varsity track team, Sharp has the potential to be a top track star in the school with her speed, competitiveness and motivation. She has been a long distance runner since sixth grade, usually running in 1600 and 800 races. Her mile time from last season was 6:18, and her half mile time was 2:48, both among the best times on the middle school team.
Sharp excels at the 800 race as she says it is a good middle distance for her. It isn't too far where she can't go very fast and has to pace herself, but isn't too short either, allowing her to get in the zone, push herself and stay calm during the run. Sharp will bring a lot to the high school track team through her strong mentality and eagerness to improve. "I think what makes me unique is I bring a competitive but friendly spirit," Sharp said. "It is really hard to have a positive attitude in track because it can be pretty painful but I think I do a good job of keeping a smile on my face."
Varsity Tennis, Yedidya Milner-Gillers
Sophomore Yedidya Milner-Gillers is co-captain of the varsity tennis team along with junior Alec Silberg. It is very rare to be a captain as a sophomore, yet his leadership skills skyrocketed him to this position. As a freshman, he was the youngest member on the team after just three years of playing tennis. Milner-Gillers had a pivotal win mid season last year against Field, which gave a boost of confidence to the whole team. 
"I have two roles on the team. My first role is a player. I played varsity last year as first doubles and played a few singles matches," Milner-Gillers said. "My second role is as a teammate. On and off the court I support my friends and help them improve." As for expectations for this season, Milner-Gillers wants to bond with the team while winning as many tournaments as possible. "I expect big things this season. Not necessarily winning-wise but team-wise. I see Coach Kirsch forming a close group of athletes working together and working hard," Milner-Gillers said.
Leave a Comment
About the Contributor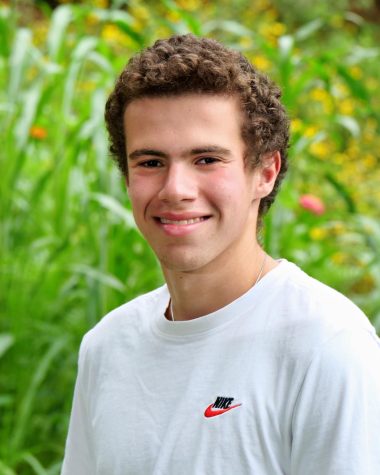 Ari Werbin-Gradel, Sports Editor
Ari Werbin-Gradel is super excited to be working on Lion's Tale as a second time editor for sports! He previously served as a reporter, sports social media coordinator, features editor last year, and now is a sports editor. In his free time, Ari enjoys playing and watching sports, reading science fiction, and playing guitar and piano. In addition, he is part of the basketball and varsity soccer teams, is part of the Stars club; giving tours to newcoming students and their parents, and is involved in many different clubs. He cannot wait to contribute to the Lion's Tale through both writing and now editing!