The bar is high
Gymnastics is more than a hobby for one student
Freshman Julia Yoskowitz steps up to the high bar as usual, only this time, she is not in the Dynamite Gymnastics gym in Rockville. This meet in Philadelphia will prove her hours of training to be worth it. After taking a breath, she grips the bar and perfectly executes the giant, a move she has been working on for the past two years.
Yoskowitz has been doing gymnastics for 13 years and competitively for eight. When she was younger, she enjoyed playing in jungle gyms so her parents enrolled her in gymnastics to channel that energy in a safer place. Since then, Yoskowitz has been training rigorously at Dynamite Gymnastics, just up the street from the Upper School.
"We practice four times a week for four hours [each time], and we try to get into all events in one practice, especially when it comes closer to an actual competition," Yoskowitz said. "We want to be very consistent and make sure we know all our routines so that we can perform the best we can and prevent getting hurt."
Yoskowitz says that consistency is key for gymnasts in order to develop muscle memory and maintain fitness. Training involves stretching, strength conditioning and practicing for events. This helps them build the skills needed for their routines.
There are four main events Yoskowitz and her team compete in: vault, bars, balance beam and floor. Each of these events require practice and dedication, especially for those looking to compete at a higher level. In her last meet, in her division, Yoskowitz won second place all around which includes scores from all four events.
For Yoskowitz, however, the biggest obstacles are often mental. The possibility of getting hurt, not being able to master a skill or having to regain muscle memory after taking a break from gymnastics are all things Yoskowitz has to overcome. While this has slowed down her training before, it has never stopped her. Luckily, within Dynamite Gymnastics, there is a great support network that helps Yoskowitz overcome any mental obstacles she may encounter.
Shoshana Berger, a teammate and friend of Yoskowitz, said that a great thing about gymnastics is the community it builds.
"Julia and I have stuck with each other our whole gymnastics careers. We've been through countless coaches, so many teammates coming and going, hard practices and almost every meet together," Berger said. "I know Julia will always be on my side and I'll always be on hers. We share everything with each other."
Coach Tamara Witt is another member of the Dynamite Gymnastics community and coaches the optional girls team. She said some girls pulled out of training with the spread of COVID-19, but Yoskowitz continued training to the best of her abilities.
Balancing school and gymnastics has been a challenge for Yoskowitz considering the increased workload that comes with freshman year. Though she still dedicates much of her life to sports, she makes sure to prioritize her school work to maximize her academic success.
"I love gymnastics because it can really help me clear my head if I had a stressful day. It's also definitely the people. I've made some of my closest friends from gymnastics because I usually see them 16 hours a week. I've been able to make great relationships with them not only over a long period of time but also over the past few years," Yoskowitz said.
Leave a Comment
About the Contributor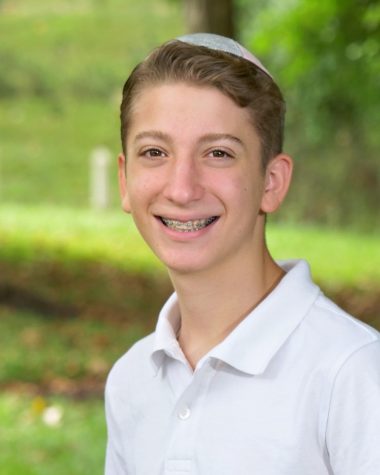 Simon Albert, News Editor
Simon Albert is thrilled to continue working with the Lion's Tale and take on his new role as the News Editor. In the past, Simon was the Assistant In-Depth Editor where he built skills as a copy-editor and spread designer. He enjoys bringing light to unknown stories through his writing and design and hopes to work on this more in the news section. Aside from Lion's Tale, Simon is active in many extracurricular activities such as Mock Trial, Model UN, and Shir Madness, where he has a prominent role in each one. Simon is excited to bring his artistic and writing skills to the newspaper this year.