Crochet corner
Three thousand stitches compose that sweater you saw at the mall. A stranger's hands passed over each of those stitches, following the motions of  lifting the yarn over and pulling it through. As simple as they are, no machine can replicate those movements.
I never appreciated the time and effort that goes into each crocheted piece until I learned the craft myself. Making a tank top for my sister's birthday, a sweater with a star on it for myself and many more projects has taught me the power of my own hands. Anyone can take yarn and turn it into a pillow, vest or blanket. 
Learning to crochet is daunting, but it is worth it. The repetitive motions involved in this craft can be stress-relieving. According to a survey by the NIH of 8,391 individuals, 89.5% reported feeling calmer when they crochet. Personally, crocheting helps me focus when I'm feeling jittery. I can crochet while watching TV or listening to a podcast, which makes free time feel productive.
With crochet, I can make my own clothes, home decor, accessories, stuffed animals and more. Crocheting is trendy at the moment with over 16.7 billion views on the #crochet on TikTok. Even still, it is timeless, dating back to the early nineteenth century. 
Crocheting is unique in the sense that no machine can replicate it. Knitting machines are common because the yarn only needs to connect to the previous row, while crocheting secures a stitch both to the previous row and the column of stitches.
Crocheted pieces are both beautiful and impressive because of the mastery they require. That being said, anyone can learn how to crochet.
There are many great YouTube tutorials for crochet skills. Bella Coco's lessons under the "Absolute Beginners Crochet Lessons" playlist is especially helpful. She builds each skill off of the last and her explanations are very clear. Please note that she uses U.K. crochet terminology, which differs from U.S. terminology. If you think this will confuse you, there are many other creators on YouTube who make tutorials for absolute beginners, like simplydaisy and GoodKnitKisses. You should start with a video that teaches you how to single crochet, which is the most basic stitch.
I would recommend buying yarn from a store in person rather than online because you can feel the texture of the yarn and see its color. Michaels and Joann's are both great options for cheap yarns, but local yarn stores are fantastic resources for both high-quality materials and advice on the craft. The most practical option for other crochet materials like hooks and stitch markers is Amazon. They sell large sets that are high quality and cheap.
For me, crocheting helps me live a more ethical lifestyle. When I crochet my own clothes, this is an act of slow fashion, which contrasts unethical fast fashion. I know exactly where my materials come from and I am the one who performs the labor for my clothes, so I can be sure that the process is not exploitative. 
The sheer practicality of crochet is part of what makes it great. Beginners can make useful items like headbands and coasters in a day. Dishrags, t-shirts and sweaters are also common projects. It is important to pay attention to the intended skill level of each pattern you attempt, but I also encourage you to challenge yourself and try something that you didn't think you could do. 
Take a leap of faith. You may surprise yourself.
View Comments (2)
About the Contributor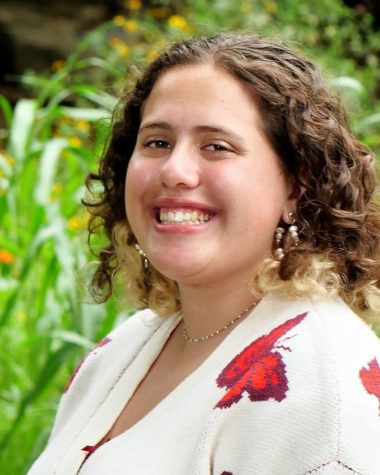 Ellie Fischman, Managing Editor, Copy
Ellie (they/she) is very excited to continue their work on Lion's Tale as Managing Editor, Copy. Their previous positions of Opinion Editor and Assistant Sports Editor have reinforced their passions for design and helping writers refine their work. Outside of Lion's Tale, Ellie is a peer tutor at JDS's writing center and the co-president of Girl Up Club. When they do not have a massive pile of articles to edit, they enjoy crocheting clothes, writing poetry and playing volleyball. Ellie hopes to enhance the Lion's Tale's unique voice as Managing Editor, Copy and help writers reach their full potential.