Profile: Dance team head coach Melanie Barber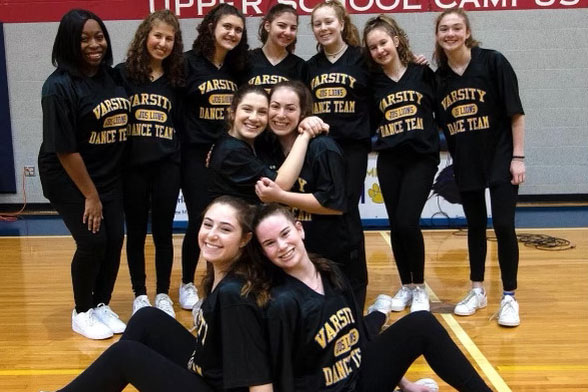 Dance team head coach Melanie Barber cheers from the sidelines as she watches the high school dance team perfect the routine they have been working on for a few weeks. She nods and congratulates the dancers for their amazing technique and all the hard work they had put into it.
Barber grew up in Gaithersburg, Maryland, and was homeschooled from the third grade until graduation. Despite not being in a traditional school setting, she gravitated towards ballet and other forms of dance. At five years old, Barber's parents enrolled her in dance lessons and it was there that her passion for dance really developed. 
"Growing up, I was very much into ballet; being a ballerina was my thing," Barber said. "But I also liked the idea of making up dances… When I turned 21, I realized how much I liked choreographing, so I changed my focus from performing to being behind the scenes." 
Barber received an Associate of Arts Degree from Montgomery College, with dance being her area of concentration. During her time there, she participated in many dance company shows and theater performances which amplified her love of dance. 
Nineteen years of teaching later, Barber continues to choreograph routines for local high school and middle school dance teams, musical productions and studios. She has served as the dance team coach at CESJDS for four years now and loves the welcoming community and passion the students share for dancing. 
"I enjoy working with the students and I feel like here at JDS, everyone has a well-rounded mindset that school is important, academics are important, but it is also good to have hobbies and share everyone's talents and gifts. I think it's a very nice environment and everyone has been very warm and supportive," Barber said.
According to the dance team captains, juniors Abby Greenberg and Gili Schisterman, Barber has been an amazing asset to both the middle and high school team, especially in more recent years as the dance team has gained more momentum in the school. Although Barber spends most of her time choreographing with the younger dancers, she enjoys seeing all the success and leadership taking place at high school level. 
"Coach Mel is so enthusiastic about our dances and she gets so excited when we all hit something really well," Greenberg said. "Whenever we finish learning a new routine, she always has the best reactions, even when she is just seeing something for the first time. It gets us all really excited to keep going, keep learning, and just perfect our dances even more. 
Beyond the actual choreography, Barber is also involved in the logistics of the team to ensure it can properly function. In addition to finding opportunities for the dancers, she also is involved on the administrative side. 
"As the coach of the dance team, I make sure everyone gets the practice schedules, ensure everyone knows when we try out and I look to see if people have conflicts. I also see what people's dancing backgrounds are…I look to see if they have the potential to be a good player and a good teammate," Barber said. 
Barber's main objective is to create a safe, fun and fulfilling environment for all the dancers at JDS. Practices on Mondays and Wednesdays are always the highlight of her week. 
"Every year is something new and we find fun things to do," Barber said. "Seeing the end result and seeing how everyone's confidence blossoms and how everyone has a good time makes me happy."