CESJDS hosts exciting game night featuring "Who Knows One?"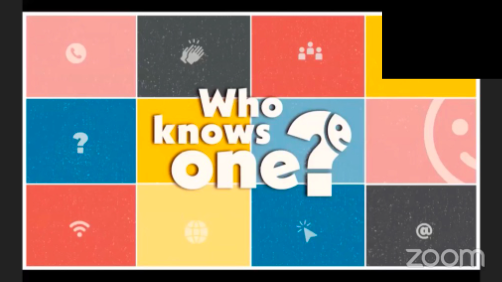 On Feb. 27, parents, faculty and alumni engaged in friendly competition by playing the beloved game "Who Knows One?"
"Who Knows One?" is the more official version of the commonly played game Jewish Geography, and consists of three rounds of a race against the clock to find "The Chosen One," a selected Jewish person that must be brought onto the Zoom call. Two teams race, using only their personal connections, to find someone that knows "The Chosen One." Each round, a Super Connector, who acts as an additional team member, is awarded to the team who correctly answered the most CESJDS themed questions.
The first round consisted of two Lower School parents, Jenna Schilit and Charles Levingston, versus two Upper School parents, Miriam Stein and Sig Libowitz. 
Host Micah Hart revealed that the first Chosen One was Hannah Lippman, a 30-year-old from Plantation, Florida. 
Once given the name of the Chosen One, contestants must reach out to people that they know, hoping that one of their contacts will lead them to find the Chosen One. 
Since the contestant's first outreaches have to be JDS families, Levingston reached out to alumna Leah Tulin. Because Tulin's parents live in Florida, Levingston thought that she might have some connections. 
The fun really started when Schilit called in her mother-in-law, Dianne Lipson Schilit. Despite losing her multiple times due to technical difficulties, Dianne proved to be a very helpful asset. 
Many more helpers were brought on for both teams, but the answer to the question "Who Knows One?" is in fact Lippman's mother, Marcie, who was brought onto the Zoom by the Lower School team.  
For round two, Upper School Athletics Director Becky Silberman and Assistant Dean and Math teacher Tori Ball went up against Lower School Instructional Technology Specialist Hadas Heyman and General Studies teacher Michal Friedman. After trash talk from both sides, the round began. 
The chosen one for the second round was Rachel Zuckman, a 38-year-old from Farming Hills, Michigan. Both teams were puzzled by the location. 
"Jews are excellent at Jewish geography, terrible at real geography," Hart said. 
The Upper School team began by bringing in Academic Dean Aileen Goldstein, followed by the Lower School team bringing on Math Coordinator Jennifer Rittberg. 
Director of Lower School Admissions Dorie Ravick joined the Zoom call as a helper for the second time. Finally, Audrey Bloomberg joined for the Upper School team, securing their win with a simple, "I got you."
Even though Silberman lost the other half of her team midway through due to Ball taking a work call, the Upper School team took home the win, since Bloomberg and Zuckman were best friends. 
Round three was a showdown of siblings, putting the Schnitzer siblings against the Weisel brothers. All members of both families are JDS alums, as was Super Connector Geoff Chesman. 
"It's got extra significance for me this year," Chesman said. "This is my 30th anniversary of graduation…and to this day some of my best friends are still those guys that I graduated with at JDS."
Round three's Chosen One was Anna Roberto. After only two tries, the Weisels located somebody who knew Roberto, making it seem as though they had the competition in the bag. However, they lost the connection as quickly as they found it, since their outreach logged off the call. 
The Schnitzers won the Super Connector after being asked the name of the JDS yearbook since both sisters acted as Editors-in-Chief during their years at JDS. Now on team Schnitzer, Chesman brought Ravick back for a third time. 
Yet again, the phrase "I got you" sealed the deal once Ravick brought one of Roberto's friends on the call. The Schnitzers won the round, using only three outreaches. 
"I think JDS has, both sort of when I was there and even 20-some years later…[been] such a huge part of my life and who I've become that I love staying connected to it and supporting it so that other kids and families are able to, you know, share the same or similar experiences," Debbi Schnitzer Cooper ('93) said.