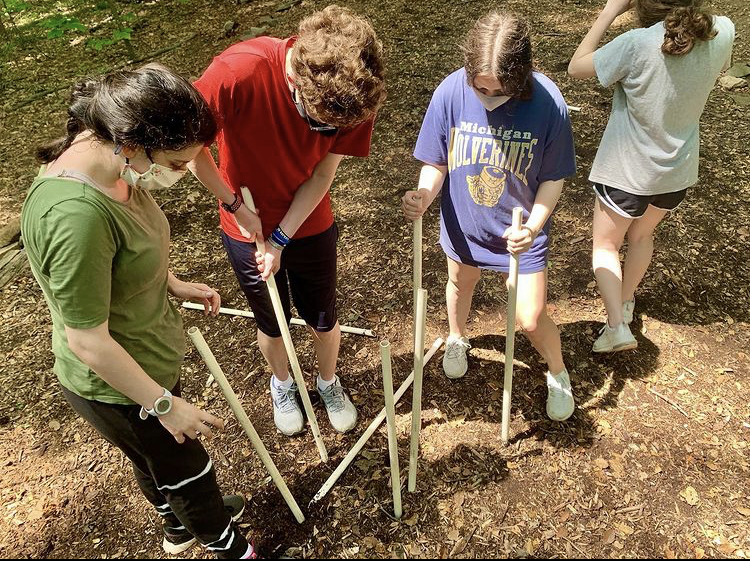 Photo by Alec Silberg
For the first time since the school closed last year, CESJDS invited the 9th grade students on a field trip. The majority of the grade chose to go to the Calleva outdoor organization for a day filled with ropes courses, ziplines, team building exercises and other exciting excursions. 
Prior to the trip, students were asked to select the intensity of their day and were placed into groups with classmates who had similar preferences. The most adventurous students were able to participate in extreme ropes courses in the trees while other students were able to enjoy a day closer to the ground. 
9th grader Evan Pearlman chose to engage in the most extreme level that was offered and was happy with his decision. He appreciated the freedom of being able to choose which group to be in and also being able to request some of his friends to be in a group with him as well. 
"I did enjoy the trip today because I think the school did a good job with our grouping and we were all placed in the right activities based on what we chose," Pearlman said. 
Everyone on the trip was required to wear a mask throughout the day. "I felt safe the whole day because everyone kept their masks on the whole time," ninth-grader Zoe Epstein said. The students agreed that they would be able to have safe and enjoyable field trips if the necessary precautions are followed.  
Last year, the class of 2024 lost their opportunity to travel to Atlanta as a grade. Pearlman was glad to be given a reminder that his grade still deserved to have fun on field trips together.
"It was a good feeling because we've missed out on having field trips for over a year," Pearlman said. "It felt nice to do a group activity for the first time in a while where we could all participate in something outside of school."