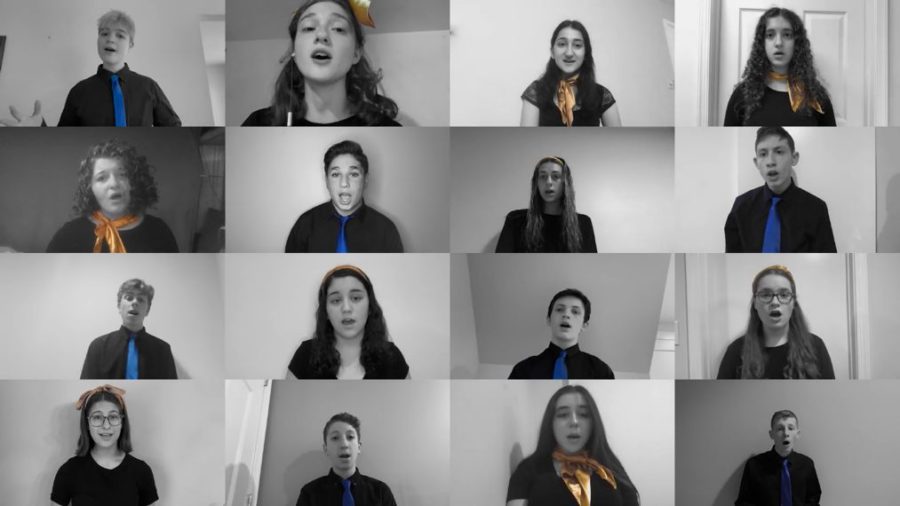 Photo by Rochelle Berman
A performance showcasing the vocal talents of many Jewish day schools, including CESJDS, took place Sunday, May 16 on Zoom. Although COVID-19 prevented the event from being a competition this year, each school was still proud to show off their pre-recorded songs. Each group congratulated each other during and after each viewing. 
Usually the Kolot Hayam celebration is an in-person event between schools. Like most events this year, many adjustments were made. Vocal music teacher and Shir Madness director Aaron Dunn advocated for this year's Kolot Hayam celebration to be a performance instead of a competition. 
"Different schools are going about this a different way. We're going with a very student led and driven approach. Other schools are outsourcing all of their production," Dunn said. "The videos that we saw at the festival were gorgeous and incredible, but they were not the sort of thing that inherently students might be able to do, so to make it a competition would be unfair."  
Junior Maia Zimmers is the Alto Section Leader of Shir Madness and believes the performance was less stressful because of the lack of competition. They could mess up as many times as they wanted because they could choose which recording they wanted to be included in the showcase. 
"Everything was pre-recorded, so it's like you're performing to yourself in your bedroom. There is no stress of the audience, although I do miss the energy that you get from the audience which was my favorite part about performing. But it definitely takes all the nerves out of it," Zimmers said. "It was hard to stay motivated though, it became pretty monotonous." 
Although the pre-show jitters were gone, the group missed the energy of having a live audience. It made the anticipation leading to their performances more exciting. 
Regardless of the downsides, each school was proud of the pre-recorded performances they had worked hard to showcase. Throughout the call, the chat was blowing up with words of encouragement and praise. There was a definite sense of community among the vocal groups. 
"I was really impressed with everyone," Zimmers said. "You don't really know how it's going to work out, so you just have to trust the singers and editors."