Green Team plants garden
The Green Team planted a small garden consisting of flowers and herbs at CESJDS,  on Wednesday, April 28. The club got the idea to plant this garden after attending the Montgomery County Climate Action Plan Youth Townhall, where they were able to discuss with other students actions they would like to take to make their schools more environmentally friendly. 
The club consists of students who feel passionate about preventing climate change and taking care of the earth. Their goal in planting this garden was to plant flowers that were good for bees, and herbs for the school to hopefully use. Sophomore Devorah Freeman found that joining the Green Team was a first step in helping her become more environmentally conscious. 
"I first joined the Green Team because I wanted to get involved in more clubs. However, I came to become much more passionate about the environment and also more educated," Freeman said. "Joining this club has brought us a step closer to helping students take small actions in becoming more environmentally aware."
The upkeep of the garden has been difficult, as high school students are not on campus every day to water the plants. The Green Team is trying to maintain it for as long as possible so that they can continue expanding it after summer ends. 
"It's a small box you know, a couple feet by a couple feet, but it's mostly for our enjoyment since we are all nature lovers, so hopefully we can keep it alive for as long as possible"," junior and club member Talia Jacobsohn said. 
Advised by physics teacher Ray Hodges, the Green Team currently meets virtually on Mondays during club block and sometimes also gathers on Wednesdays to complete projects, such as the garden. Most of the club is populated by juniors, so the club encourages underclassmen to join to prevent it from coming to an end when the current juniors graduate. 
"This is my first year joining, and we've already done a couple projects such as the garden and a plastic bag fundraiser, so it feels really good to feel like we're actually making progress at the school," Freeman said.
Climate change is not a part of JDS's curriculum, so the Green Team Club has met with students through Montgomery County to see how they are incorporating climate change into their school's curriculum. Last year, the Green Team attended climate change protests, spoke at assemblies and fundraised. However, they have had to make accommodations to their usual activities because of COVID-19.
"As we've been spending more time outside because of the virus, it's nice for there to be this communal space for me to sit around with friends, and also a reminder of the work that the Green Team is doing," Jacobsohn said.
About the Writer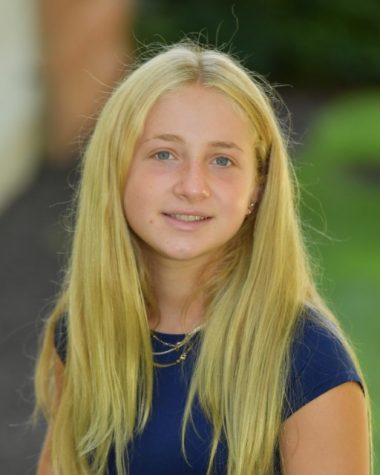 Daniela Abrams, News Editor
Daniela is extremely excited to be  continuing her time on Lion's Tale as the News editor. Daniela loves working on designing spreads and especially loves writing articles. She is thrilled to begin this chapter with the new staff and take on the responsibility of working with reporters. She can't wait to become closer with the Lion's Tale staff. Outside of the newspaper Daniela runs cross country and track for JDS, plays guitar, and is a committed member of the debate team. She can't wait to see what this year holds for her and all the other staff members!