Ceramics teacher Gretchen Gobin returns to teaching in-person
As high school returned to in-person learning, CESJDS gave teachers who had health concerns the option to remain at home. While most teachers in the art department did not return to teach in person, ceramics teacher Gretchen Gobin asked permission from the school to return long before students did in order to prepare materials for students to take home.
Throughout the pandemic, Gobin has had to alter her curriculum many times in an effort to adjust to the special circumstances. Due to the quick nature of the switch to online school last year, Gobin did not have time to prepare materials for students to bring home. Therefore, she decided to shift the curriculum to the history of ceramics, which involved a heavy amount of reading and writing. 
"At the beginning of this school year,  I sent out a survey asking students what they would prefer to learn," Gobin said. "I got feedback that last year's class was too much of an academic class, so I had to shift the curriculum again and come up with something entirely new."
Gobin spent time putting together an extensive art kit for the students to bring home in early September. The ceramics class at that point had shifted mostly to an art and design class. However, she created one ceramics based project where she gave students glaze and  pre-made ceramic tiles to bring home. 
"I felt confident that I could do it because I have a degree in painting," Gobin said. "…I have a lot of skill and knowledge of how to draw 2-D art in general so this wasn't really a stretch for me, in fact, it's been kind of nice." 
Before hybrid learning, Gobin was returning to school weekly to glaze the tiles the students were painting from home. 
"
I'm done being crazy about it, I'm not too worried anymore, I'm just so grateful and excited to be back with my students. It's been really great both academically and mentally."
— Ceramics teacher Gretchen Gobin
"I asked the administration if I could come in. Nobody asked me to come in, but I just felt terrible for the students. I feel comfortable coming in the room and so I got the green light," Gobin said. 
Gobin feels extremely grateful that she is able to interact with her students in person. She has given them more of a flexible plan, as it is hard to teach both students on Zoom and in person simultaneously. 
"When in person, students get to decide what they want to do, and I teach them how to do it. So half of them decided they wanted to paint which was great, and the other half wanted to do ceramics," Gobin said.
While Gobin has enjoyed teaching art and design, she does not think it will affect how she teaches her classes in the future, post COVID. 
"As long as I am the ceramic teacher in person under normal circumstances then I will not change my lesson plan because I also really enjoy the regular curriculum," Gobin said. "That just isn't feasible for now, so I am trying to make the best out of it."
Gobin has now received the first dose of her vaccine, and is feeling even more comfortable with teaching in person. She also trusts the research that shows the virus has not been transmitting through school and materials. 
"I'm done being crazy about it, I'm not too worried anymore, I'm just so grateful and excited to be back with my students. It's been really great both academically and mentally," Gobin said.
About the Writer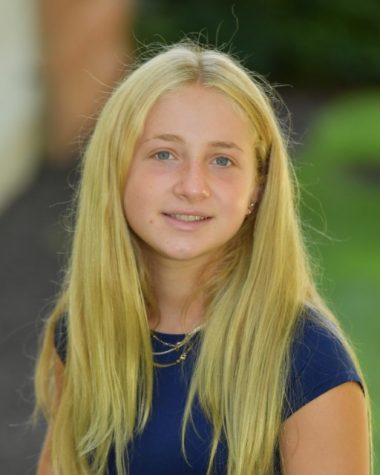 Daniela Abrams, News Editor
Daniela is extremely excited to be  continuing her time on Lion's Tale as the News editor. Daniela loves working on designing spreads and especially loves writing articles. She is thrilled to begin this chapter with the new staff and take on the responsibility of working with reporters. She can't wait to become closer with the Lion's Tale staff. Outside of the newspaper Daniela runs cross country and track for JDS, plays guitar, and is a committed member of the debate team. She can't wait to see what this year holds for her and all the other staff members!