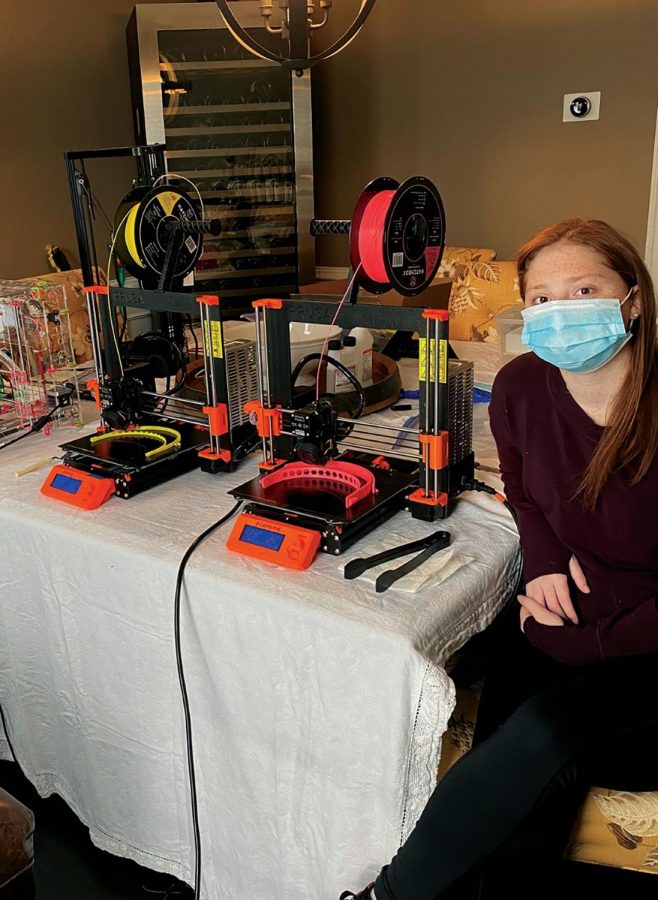 Photo provided by Jenna Bortnick
From mid-March to early June, the soft humming sound of 3D printers could be heard all day long throughout freshman Jenna Bortnick's home. Pursuing her interest in STEM, Bortnick took advantage of the 3D printing skills she learned in school and produced over 300 face protection shields for those in need around the Greater Washington Area.
After seeing a clip on the news about another local private school being able to 3D print such protectors, Bortnick was inspired to follow in their footsteps and print shields of her own. Bortnick reached out to the school in Potomac to see if she could use their print model after receiving two printers and the filament for the shields from JDS.
"We saw that Bullis was 3D printing masks and we wondered if we could email [the school] and get the print that they're using and use the Jellybox [printer I was sent home with for my elective class] to print them," Bortnick said. "It ended up that the Jellybox was too small, so we asked the school if we could use their general printers and test two of those, which we used to print them."
With help from 3D printing teacher Terrilynn Platt, Bortnick received two printers from the school along with the filament used to print the shields. Platt is delighted with how well Bortnick's project went.
"I was quite impressed that Jenna opted into this project during that crazy, confusing time when the school building first closed, and I am so proud of what she accomplished on her own initiative," Platt said.
Bortnick stuck with the standard mask size and design that was given with the original print template and kept up with the tweaks in design as needed. She mostly used the filament given to her by JDS, so the colors varied. Given the amount of time it takes to print even the smallest designs, Bortnick had the printers running all day to maximize the total number of shields she could print.
"I used the same size for all the masks, and the print code changed a couple of times due to where they were being sent," Bortnick said. "We'd print about four of them a day and it'd take 12 hours."
Though she had to give the printers back to the school at the end of the year, Bortnick enjoyed giving back to the community in a way that would benefit everyone.
"[I think it's rewarding] that in a time where we aren't doing much except sitting around the house, that we got to help people and get the feeling that I was helping people and making a difference," Bortnick said.
Although much remains unknown about how the upcoming school year will play out, Bortnick seeks to continue printing more shields, whether that be in the classroom with her friends or in the safety of her own home.
"If we end up going back to school [for a long period of time], it would definitely be fun to see if we do it in the class, like if the class helped make them for the school or to donate as a community service project," Bortnick said. "And if I still had the printers, I could continue to make them and help even more people."