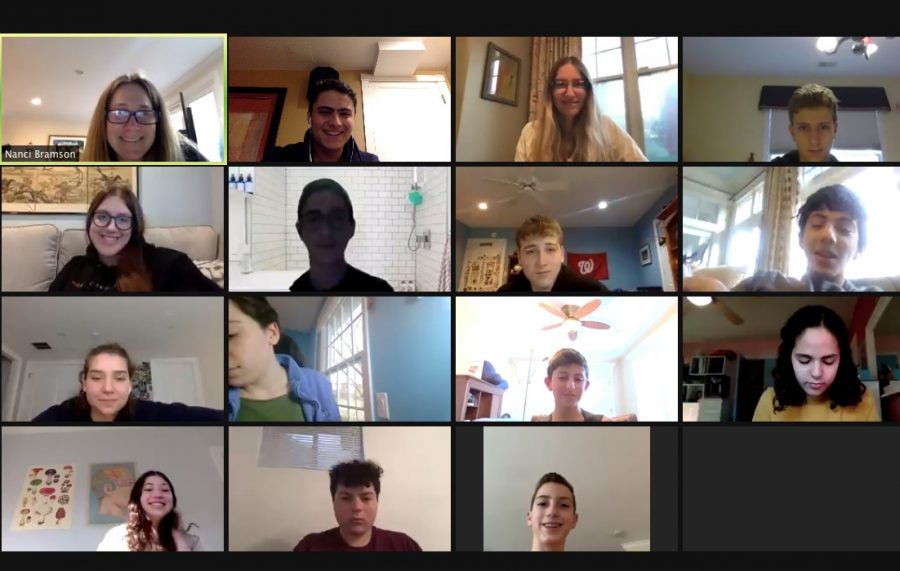 photo by Junior Benjamin Guggenheim
Staring at a computer screen on a Thursday evening to participate in a group discussion led by coaches and captains on the preparation material for this year's case has become the new normal for members of the Mock Trial Club. Members have been attending their weekly meetings via Zoom this year, however, they may transition to in-person meetings depending on the condition of the pandemic.
Mock Trial coach and CESJDS parent Nanci Bramson thinks the virtual setting of the meetings has made it more difficult to conduct trial preparation this year. 
"I think that we are really struggling right now because it's hard … to concentrate on Zoom after school," Bramson said,"So it is really really hard for the prep. So hard, by the way, that we'd asked for permission to meet in-person and we were given the permission as long as … everyone goes to the testing. But, now I can see the writing on the wall that I think the numbers in Maryland are just going too high, so I don't think that's going to happen, but we'll see." 
The decreased attentiveness and engagement caused by virtual meetings, according to captain of the Mock Trial Club junior Benjamin Guggenheim, could have caused the negative change in the overall "team spirit."
"Yeah, there is definitely the team aspect which has not been as strong this year," Guggenheim said. "… It's still been there, we are still making jokes, we're still talking to each other in the chat, we're still doing all these things, so I wouldn't say it's gone … but that element of it has definitely been worsened."
Despite these challenges, Guggenheim said that, overall, having "practices over Zoom this year is really fun." New member sophomore Oliver Ferber agrees and thinks that generally, the meetings have been interesting and informative.
"Even though it is on Zoom, it's still really good," Ferber said. "A lot of discussions [are] happening and I am learning a lot from [them] … even though it's on Zoom, there is still that same level of intensity."
In addition to their weekly meetings, the Mock Trial Club will have virtual interscholastic competitions taking place from January until late February with the possibility that the season may continue into March depending on their success. Bramson believes these trials will be problematic as communication among team members will be difficult. 
"In terms of the trials, again for Mock Trial, being online is going to be terrible …," Bramson said. "Part of what happens at trial is your sitting at the counsel table together, and you can send notes to each other, you can remind people of things, and so all that is going to be lost."
Sophomore Josh Kelner, who joined Mock Trial last year, disagrees with Bramson that the virtual trials will be completely problematic, but thinks that they will still be less enjoyable given the fact he will not be able to experience the courtroom atmosphere.
"Going into court was the part I had fun with last year so that's going to be … a bit of a minus not doing that this year," Kelner said.