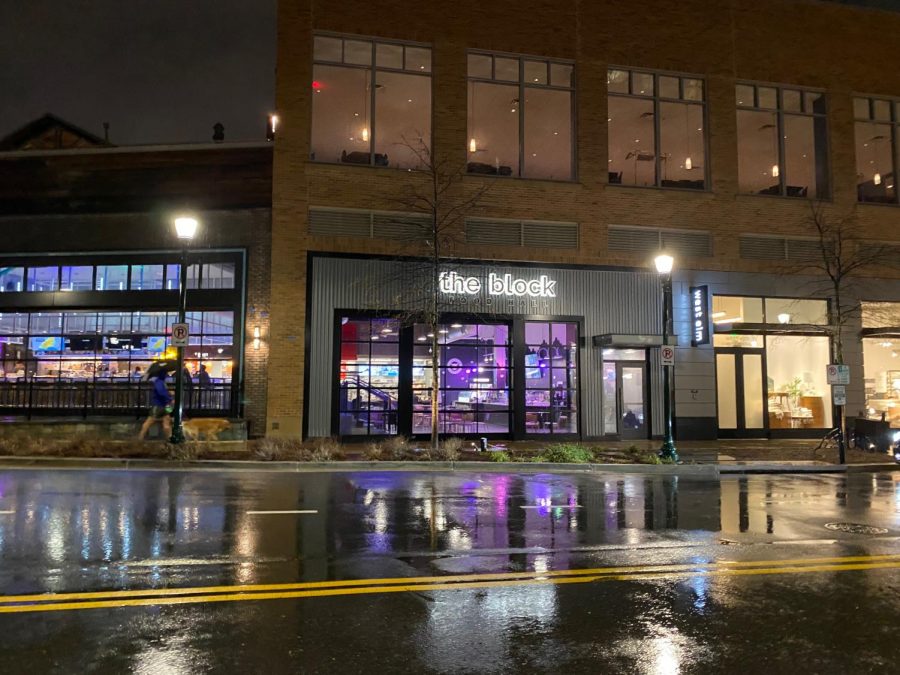 photo by Mischa Trainor
While the atmosphere of The Block, a new Asian food hall in Pike and Rose, was cool and modern, the food was very disappointing.
As soon as you walk into The Block, you are greeted with a modern, exciting atmosphere filled with plenty of seating, including a seating bar in the center, and cool lighting that gives the hall a modern feel. However, the quality of the food did not match the well-designed hall. 
The hall consists of multiple restaurants including Mama Mei's, which serves Chinese-American food; Oppa KBBQ, which serves Korean Japanese fusion food Pokeworks and Snocream Company, which features various Asian desserts. However, the Asian food hall also contains a pizza restaurant called the Slice Club. 
I got a poke burrito from Pokeworks which offers poke bowls and poke burritos. This is unlike most poke places that just offer the traditional Hawaiin bowls of rice, raw fish, toppings and sauce. The bowls and burritos ranged from about $13-$15 which is not unusual for a poke restaurant. I am a big fan of Poke, but I was quite disappointed with my burrito. It tasted like it had been sitting around for days.
My sister, junior Sasha Trainor, ordered a plain cheese pizza from the Slice Club that was very greasy and bland. While they do offer pizzas with unique Asian toppings like purple potato drizzle, I would still not recommend this place over a more typical pizza restaurant. The pizzas range from $13-$15 which I believe is overpriced for the quality.
My mom and my other sister, junior Jane Trainor, both got udon noodle soups from Mama Mei's. Both of the soups were pretty average quality. Mama Mei's did not separate the toppings from the broth in our to-go order like most other restaurants that serve udon do, so many of the toppings were soggy by the time they were eaten.
Overall, I would not recommend The Block to anyone. If you're looking for a quality Asian food hall with a fun environment, I would instead recommend The Spot, located in Rockville Town Square. It offers the same fun atmosphere and seating as The Block, and the food is much better.