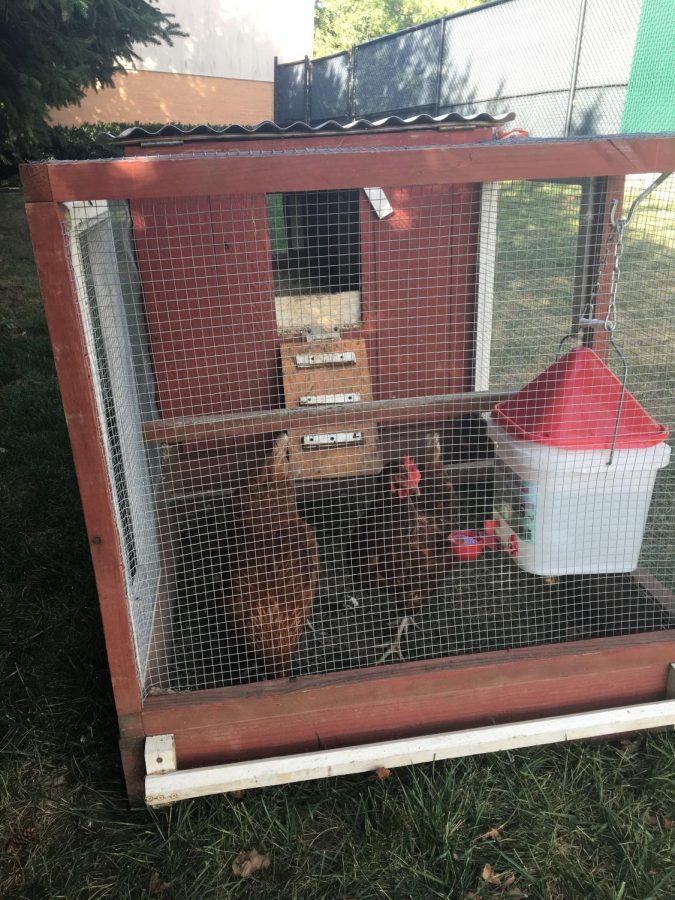 photo by Adam Drexler
A chicken coop containing two hens, Sally and Marie, was installed on the Lower School campus over the past month in order to supplement the science curriculum for younger grades. 
For the past few years, the lower school has been renting chickens for 12-week intervals from a company called Rent-A-Coop. Students have the opportunity to help hatch the hens' fresh eggs and watch them grow into chicks. Also, students use fresh eggs when making challah on Fridays, which has sparked debate about Kashrut, nutrition and agriculture.  
Lower School Science and STEM Coordinator Dr. Alexis Soffler is passionate about the students experiencing the chicken coop. She pushed for the addition of the chicken coop and brings students to it to interact with the chickens on a daily basis.  
"Our elementary students really benefit from direct connections in science," Soffler said. "Our chickens help teach our young students about the biological needs of animals."
The chickens also help to teach responsibility and empathy. The students have responsibilities such as feeding the chickens, which requires consistent and timely care. Empathy is emphasized and taught through seeing how the chickens react to certain actions. A sudden, loud movement will scare the chickens, so the students learn to be empathetic — to act calmly and kindly around the coop.  
Second-grader Kyle Schneider enjoys visiting the chicken coop. He visits the coop two to three times a week and loves caring for the chickens.  
"I would visit the chickens every day if I could," Schneider said.  
Soffler is committed to preserving the chicken coop as a unique supplement to the science curriculum.  
"We definitely plan on making our 'fall chicken season' a consistent part of our science program as we expand our school garden and connect with biological sciences as well as transdisciplinary learning at the Lower School," Soffler said.