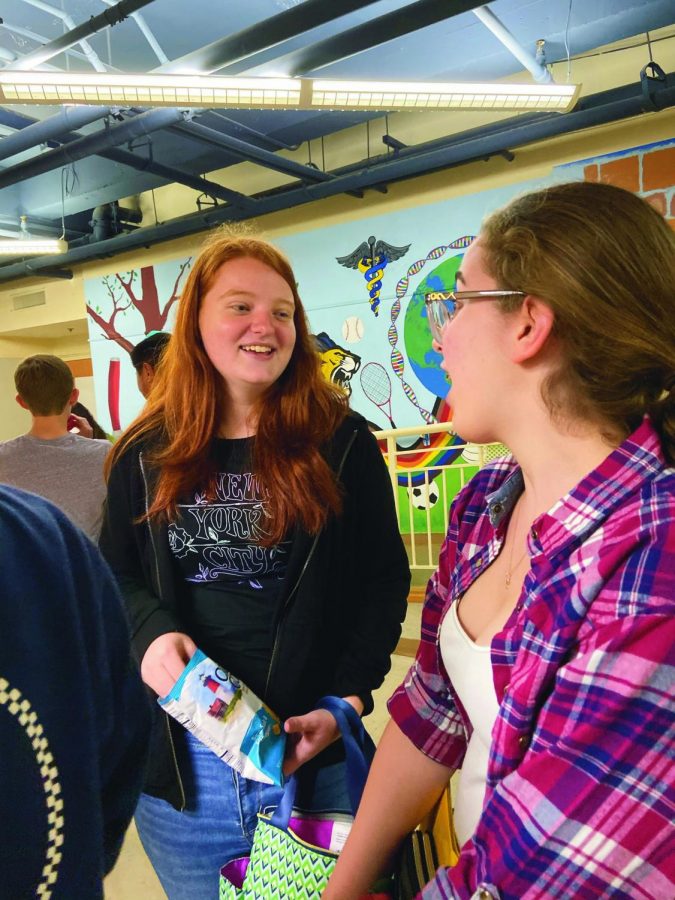 photo by Daphne Kaplan
As the alarm sounds at 6 a.m., junior Alex Ruf reluctantly wakes up. After getting out of bed, Ruf brushes her teeth and heads out the door. And at the end of a long and demanding day at school, Ruf takes the bus to her grandparents where she eats a snack, completes her homework and waits for her aunt to pick her up and take her to their home. Since Aug. 18, this routine has been a daily reality for Ruf since moving to the United States.
Ruf emigrated alone from Quito, Ecuador to join the CESJDS community, enhance her education and receive more Jewish opportunities in the United States. Ruf asked her family in early March to leave Quito; despite initial hesitation, her family agreed.
"They obviously could not have come with me because of my [four] sisters, but we were thinking of options about how we could do it. I told them I wanted to go alone; it took some convincing since they wanted to be with me," Ruf said. "They wanted what was best for me."
Ruf said she attended a good school in Ecuador, played the cello and was on her school's basketball team, but after sixteen years, she yearned for a change; a change that would allow her to strengthen her Jewish identity and to spend time with her family in Maryland.
Ruf's aunt and uncle live in the greater Washington area, which influenced Ruf's move here. Although her parents initially considered boarding school, they decided that she should have family in the area, so she moved in with her aunt and uncle. Ruf heard about JDS after her aunt and grandmother attended an open house last year and expressed interest in the school for her.
"Having her be closer to [us] and explore that Jewish identity in a way that was not possible in Ecuador, attending JDS and having a deeper connection to Judaism that is available here, I think that is something that is really going to be a part of her life going forward," Victoria Ruf, Ruf's aunt, said.
Although Ruf sought to establish a new life in America, she nevertheless struggled with the cultural changes that life in America introduced.
"It was definitely hard, especially leaving family. It was so hard dealing with all the changes: it's a new country, … new cultures, new languages and new school. It was definitely hard, but I wanted to start fresh, so I like that it's totally different because that is what I needed," Ruf said.
Despite the initial rush of adrenaline and intimidation on the first day, Ruf was given academic and social support upon arriving. Fellow junior and admissions buddy Miriam Bisker answered many of Ruf's questions, enabling her to ease into the transition and feel comfortable at a new school.
Ruf applied to JDS because she was interested in its dual curriculum  that combines Judaics with a  secular education.
"I am excited to learn more since I was not in a Jewish school before, but I am excited to learn more about my Jewish history or about Judaism in general," Ruf said.
High School Principal and Associate Head of School Dr. Marc Lindner believes Ruf's presence increases the school's diversity and fosters an accepting learning environment.
Although Ruf is JDS' first and only enrolled international student, the administration is currently working on expanding the international student program. This is done through approaching individual foreign families who have demonstrated an interest in attending the school and through applying for student visas, something for which the school is responsible.
"I think that we as a school community will benefit tremendously from having them here, as it will offer diversity, refresh new perspectives, help all of us to see and learn about people from all across the world, what they believe and how they live," Lindner said.
Although Ruf's first year at JDS has only recently begun, Ruf has envisioned her future academic plans are: She hopes to study Zoology in Europe.
"I have always planned on studying in Europe," Ruf said. "I want to study Zoology .… I think I'll probably still go to Europe, but one thing I've learned this last year is that nothing is set in stone and that we change and things change."
This story was featured in Volume 37, Issue 2 print edition of The Lion's Tale, published on Oct. 4, 2019.