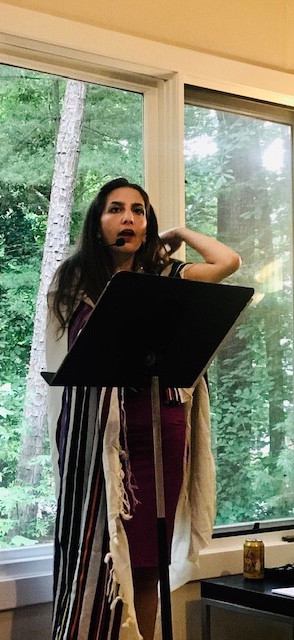 photo courtesy of Shoshana Shechter
In the mid-90s, Shoshana Schecter was sitting in a CESJDS classroom studying Jewish History when it dawned on her: she could do this for the rest of her life. Little did she know then that over twenty years later, she'd be walking back into the same school as the new Director of Jewish Life.
Schechter started attending JDS as a freshman after previously attending the Melvin J. Berman Hebrew Academy and the Yeshiva of Greater Washington and immediately felt the positive impact of being in the community. She said that being exposed to all the opportunities JDS offered in terms of Jewish learning was the reason she went into the Jewish education field as an adult.
"As we get older and need different things, sometimes the way we want to express ourselves changes," Schechter said. "Being [at JDS] and having different opportunities for Jewish expression opened my eyes that there are so many ways to connect to the Jewish community as an individual and in the world around us."
The position of Director of Jewish Life was created while Schechter was a student. She feels that the way the position shaped the Jewish programming at JDS had a big impact on the way she approached Judaism, both as a student, as an adult and now, in an administrative teaching role.
"I have very positive memories of my own Jewish identity and future life as a Jew being enhanced through that position," Schechter said. "I can remember I didn't always know exactly what the person did, but that [Jewish learning] was always going to be creative or interesting."
Schechter is looking forward to enhancing the programming at JDS in terms of helping students find and shape their own Jewish identity. She finds that making Jewish learning "come alive outside the classroom" is a key aspect in helping students learn about what they want to incorporate into their own identity as it forms.
"In the classroom, you learn so much, which is awesome. But there is also you and what your Jewish identity and future look like. You might think you know that now or have some sort of idea, but it probably won't end up being what you picture," Schechter said. "I see my role in this as the way to enhance your Jewish life beyond the classroom space and open your eyes to different ways to express your Judaism."
High School Principal and Associate Head of School Marc Lindner was the head of the hiring committee and said he is looking forward to seeing everything Schechter will do.
"She has such a broad background in Jewish educational institutions and brings a tremendous amount of wisdom and thought and new ideas to everyone, and we are really excited to have her," Lindner said.
In her free time, Schechter enjoys spending time with her daughters, Netanya (8), Elianna (4), and Kinneret (4) Shaffin who are all starting JDS this year. She also likes cooking Jewish and Israeli foods and doing makeup. She is currently in the process of earning her Doctorate in Jewish Education from the William Davidson Graduate School of Jewish Education.
Before coming to JDS, Schechter worked as the Director of Hillel at Randolph-Macon College and Virginia Commonwealth University. She had previously led many tours and programs to Israel through Randolph-Macon and volunteered with the Jewish Service Corps after college. She feels that these experiences helped her develop the "open-door policy" that she has grown used to over the years.
"Please feel welcome to come and talk to me about pretty much anything," Schechter said. "I want to learn who you all are and what you want to learn and what inspires you and how I can be helpful in that."
This story was featured in Volume 37, Issue 1 print edition of The Lion's Tale, published on Aug. 27, 2019.