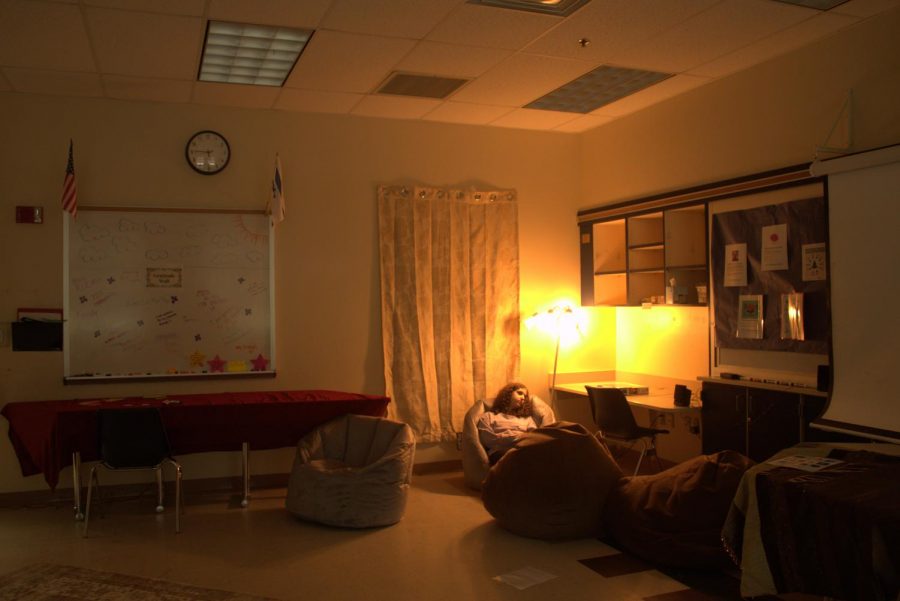 photo by rochelle berman
The administration brought back the Quiet Room to help alleviate stress due to the continued emphasis on mental health throughout the school. This change is in addition to the Wellness Palooza and the Mental Health Awareness Zman Kodesh.
The Quiet Room offers many opportunities for relaxation, including art, yoga, quiet workspaces and meditation. It is open to students every day of the week during Community Time and lunch in room 318. Faculty also have the opportunity to make use of the room during their free periods.
After it had been experimented with twice for a limited period of time, the idea of making the Quiet Room available every day for an extended period of time was first visited in the summer of 2018 and then again in the fall, but there were no classrooms available. The idea was revisited again after the class of 2019 left for Israel in late February, and with the help of cooperative teachers including Rabbi Reuvane Slater and Shelli Putterman Kenett, a room was made available starting on April 29.
"Kids here can get really focused on accomplishments, grades, learning, performance and all of that's important and good; we're a school after all," high school guidance counselor Rachel Soifer said. "We want students to know that they can do that and also have a balance by relaxing and letting go of that stress periodically to take care of both sides of what they need."
Freshman Talia Jacobsohn has utilized the Quiet Room multiple times as she believes that it is a great place to relax during the day.
"The Quiet Room is very valuable for students because during the school day there is so much going on and a lot of pressure and stress," Jacobsohn said. "It definitely helps me to sometimes calm down and it is a better place to get work done because I don't get as distracted."
In addition to the Quiet Room, students can join the Mental Health Awareness (MHA) club, which meets every Thursday during Community Time.
The MHA club was started by alumni Ilana Kaplan ('19) and Lois Richman ('19) in response to the controversial Netflix series "13 Reasons Why" during the spring of 2017. High school guidance counselor Melissa Gartner, Soifer and Dean of Students Roslyn Landy serve as advisers for the club.
One of the club's main goals is to eliminate the stigma around mental health and acknowledge the reality that a multitude of JDS students struggle with mental health. Junior and president of the MHA club Mia
Pearce also struggled with mental health and decided to join the club.
"I came [to MHA] and loved it, and I thought it was so interesting to learn about the stigma that surrounds mental health, and why it isn't talked about," Pearce said.
According to the National Alliance on Mental Illness, one out of every five children ages 13-18 struggle with a mental illness.
While the MHA club meets weekly to have a supportive space to talk about the everyday problems of all students at JDS, Pearce wanted to spread the club into other parts of the school to further reduce the stigma of mental illness. After meeting with administrators and faculty, Pearce's idea was developed into a relaxation Zman Kodesh to be offered during Rosh Chodesh.
The first session of the Relaxation Rosh Chodesh in January was focused on staying calm during chaotic school days. Students engaged in a discussion on anxiety and how everyone portrays their emotions differently. In February, students watched selected scenes from the
movie "Inside Out." The following day, they discussed and analyzed the scenes.
"The conversation that we had was completely student-led," Pearce said. "To hear [students] and to get that conversation going was so incredible and eye-opening to me."
As a follow-up activity, each student was given a sheet of paper with a picture of the character "Sadness," and was instructed to write helpful things to say to a friend who seems upset. Each student walked out of
"Relaxation" Rosh Chodesh with a sheet of paper that could potentially
aid them in supporting their friends.
Soifer believes that this supportive environment and meaningful discussion has sparked even more conversation in students' everyday lives.
"I think that everyone can benefit from paying attention to their mental health," Soifer said. "Starting our morning in a positive and calm frame of mindsets a healthy tone for the challenges of the day."
Soifer and Gartner are also hoping a return of the Wellness Palooza will help students maintain their mental health as they approach the stressful period of final exams after the success of last year's.
The Wellness Palooza will be held outside on June 3 during lunch and Community Time and will include several tables of different well-
ness resources and tips. Back by popular demand will be therapy dogs, music and tools for staying organized and studying for finals. Other activities will include art, yoga, planting, crossword puzzles and trivia games about famous people who had mental illnesses.
"I think wellness can come in every little decision you make and making that a priority in your life is what we're hoping we're instilling in each of you," Gartner said.
This story was featured in the Volume 36, Issue 6 print edition of The Lion's Tale, published on May 23, 2019.