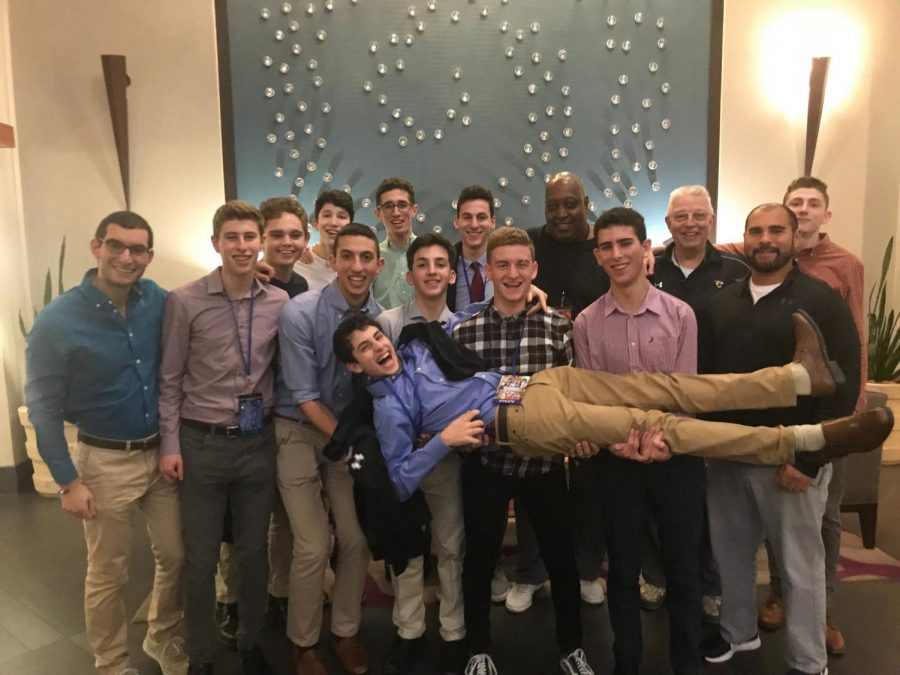 photo courtesy of Ariel Gershman
Eight hundred and eighty-one miles away and three games later, the boys varsity basketball team left the courts on Sunday, Nov. 4 feeling "accomplished," according to sophomore Brian Epstein. They participated in the five-day Cooper Invitational in Memphis, Tenn.
The team has participated in the annual invitational for six years, which has challenged their ability to work together through constant practice and games, according to Epstein. The tournament provides all teammates the opportunity to play against opponents for the first time in the season, all of whom are attendees at Jewish schools in the U.S.
"We had workouts before the season to get people in the basketball mood where we all played together with the coaches," Epstein said.  "[Playing in Memphis] helps a lot for the regular season, and [we] got to see people's strength and weaknesses, since it was our first time actually playing in a game."
Although the Lions started the tournament off with adrenaline, they were defeated in the first game, which led them to be placed as the fourth seed and eventually to the championship game of the loser's bracket.
In total, the team is composed of four sophomores, three of whom are new, one junior and six seniors. Despite the unfamiliarity of a few of the players to the team, playing in Memphis "help[ed] a lot for the regular season," according to Epstein, as the players and spectators were able to get a glimpse of everyone's strengths and weaknesses, and develop new techniques to build from throughout the rest of the four-month season.
Although senior and captain Zev Katz hoped to play better throughout the tournament, he believes that five days traveling together helped the group work on their dynamics as a team.
"It's a really new team, and [we] have a lot of guys that are new to the program, so definitely getting them in the swing of things and building that chemistry is really important," Katz said. "The team really bonded and got a lot closer [in Memphis]."
Seven-year head coach David McCloud said the team overall did well and it "will be one of the better teams in the PVAC and will win the championship this year."
While the athletes were playing basketball, many students, such as sophomore Talia Kraner, watched the games. Kraner said it is critical to support fellow classmates and the team as a whole.
According to McCloud, the support from the student body should not stop at the beginning of the season, but rather be continuous.
"I love coaching these kids, they work very hard and take basketball program with a lot of pride. I hope that a lot of people get to come out and see them, and support the basketball team as much as possible," McCloud said.