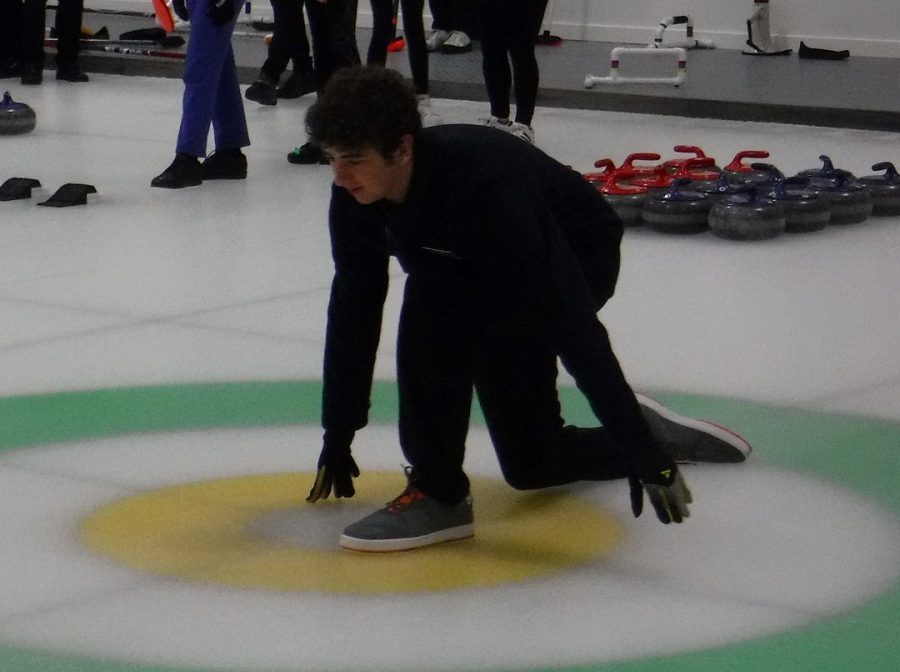 photo courtesy of Matan Rosenberg
One to two days a week, sophomore Matan Rosenberg can be found at the Potomac Curling Club in Laurel, Md., meticulously tying his specialized, athletic and Teflon-sole-contained curling shoes, then putting his jacket on and preparing to enter the curling arena.
Rosenberg began his curling career three years ago when he instantly fell in love with the sport after his uncle suggested he try it. Three years later, Rosenberg became the "team captain" of his four-person team.
Curling is played in an arena that is fairly narrow, and therefore only requires two to four players from each team.  As part of Rosenberg's leading role, he instructs his teammates where to throw rocks, and throws rocks himself in efforts to guide his team to victory.
Interim Athletic Director Becky Silberman has not heard of many who play the sport and is thrilled that there are students at CESJDS who play an unconventional sport.
"I think it is awesome that we have students who are doing sports that are out of the box and not something we typically hear about students doing," Silberman said.
Rosenberg is now starting to play more competitively. He plans to increase the number of hours he plays each week from one to two days a week, for six to eight hours and has invested in personal and more sufficient equipment that includes shoes and a stick, as opposed to the shared equipment provided by the club.
In part of his increasing involvement in the past years, Rosenberg has appreciated what the sport has to offer, "It is lots of fun, the people who play are generally nice, and it's a unique opportunity to do a sport that not many people do," Rosenberg said.
Rosenberg's mother Mandee Rosenberg believes that participating in an out-of-school sport requires effort in terms of driving to practices and games and finding a club to play in, but it ultimately pays off.
"It is important to have [students] participate in things they interested in, so it has all become a routine," Mandee said.
CESJDS does not have a curling team and the sport is currently not widely-discussed across campus, but Mandee believes that after students watch the 2022 Winter Olympics, many will learn the benefits, and "see that it's an inclusive and encouraging sport."
"It's an inclusive sport because ages can vary dramatically; you ultimately see everyone working and encouraging one another," Mandee said.
Throughout Rosenberg's experience curling, he has been motivated to continue playing and continues to bring awareness to the sport and encourage others to play, despite its low demand and popularity.
"I enjoy the sport and I just want to get better at it. And secondly, I want to try to make people aware of the sport and how much fun it can be," Rosenberg said.