All up in smoke: Despite health risks, teens are drawn to Juuling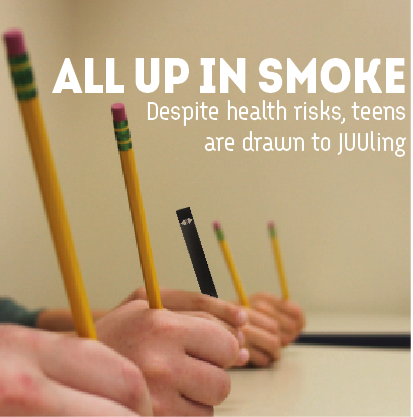 Prom night at CESJDS was cut short for two seniors, a sign that the vaping phenomenon sweeping the nation has hit close to home. While this was the only recorded incident regarding a JDS student vaping, the administration had been aware of the nationwide vaping and Juuling trend, according to High School Principal and Associate Head of School Dr. Marc Lindner.
The administration sent out an email to parents on March 18 addressing the rise of vaping amongst high school students. The email warned parents about the dangers of this drug and acknowledged that it can affect JDS students too. In addition to the letter, administration is planning on facilitating programs to educate students about the health risks of vaping. 
A national phenomenon 
A vape, also known as a Juul, is an electronic cigarette device that looks like a flash-drive. A vape is filled with liquid that can have varying percentages of nicotine, marijuana or flavoring in it.
According to the New York Times, nicotine in e-cigarettes is inhaled in vapor form rather than in tar form, which is a chemical substance formed when tobacco is burned. Tar can stick to the lungs, causing cancer, but because there is no tar in vapor, it does not have the same effect 
However, vapes still contain propylene glycol and glycerol, addictive chemicals that can potentially form cancer-forming compounds. Another chemical commonly in vapes, diacetyl, can cause popcorn lung, which restricts airflow.
Vapes are expensive, too. They can cost between $30 and $80 and the juice pods, the substance that fills the e-cigarettes, sell for approximately $20 for a 30 milliliter bottle, which can last for around a month or longer for average smokers. Despite the high cost, vaping is significantly cheaper than smoking cigarettes; the price of the 30 milliliter bottle would be equal to $1.32 per pack of cigarettes. The average prices of cigarettes in the United States is about six dollars, making vaping more economical for smokers. 
As cigarette use among teenagers has declined, e-cigarette rates have increased. Former United States Surgeon General Vivek Murthy reported that the number of high school students who vape increased by 900 percent from 2011 to 2015. The Department of Health and Human Services reported that seven percent of high school students smoked cigarettes in the month prior to a 2015 study, a figure that has been decreasing from 28 percent since 1997. 
JDS' response
The administration is aware that JDS students are not immune to this phenomenon. Even though there has only been one recorded incident involving JDS students, the administration became aware of vaping from many conversations with other educational institutions around the country. 
According to an anonymous survey of 142 JDS high school students, eight percent claimed they have tried Juuling. Of those, 39.1 percent of students started vaping their junior year, 17.4 percent began in sophomore year, 39.1 in freshman year and 4.3 percent began in middle school.
Of the students who own vapes, just over sixty percent say that "someone older" purchased it for them, 5.9 percent online, and 29.4 percent from an in-person store.
JDS is a self-proclaimed 24/7 school, meaning that what goes on in students' lives outside of school is important to administration and they will get involved "to a certain extent" according to Lindner. Upon finding out about illegal or harmful activity done by students outside of school, Lindner said that his first step is to contact the parents to help students move in a more "healthful" direction.
Sometimes, the consequences of harmful activity outside of school can be more severe. A couple years ago, the police came to a party hosted by JDS students and the involved people were suspended. Dean of Students Roslyn Landy takes precautionary measures and will call parents ahead of time if she is made aware of any expected parties. 
To educate students  about the harmful effects of vaping, Landy and the guidance counselors are arranging workshops. They are still in the process of planning these programs.
JDS maintains communication with other schools through the counseling department in addition to annual meetings with other independent heads of school in order to keep up with local happenings. At the Parents Council meeting for Deans of Students in April, vaping was the hot topic of discussion among the educators, according to Landy.  
"Vaping is a major problem facing adolescents today and I would be neglectful if I did not have concerns that it is  impacting our community," Landy said. 
Impact on teenagers
Junior Max Stravitz was invited by Landy to represent JDS students at the Parents Council of Washington Student Leaders meeting on Feb. 6. According to Stravitz, parents want to learn from other schools and hear the students' perspectives. The meeting, among other topics, discussed the recent upward trend in vaping, especially for students. 
"In a school setting, people can go into stalls in the bathroom and vape and no one would know," Stravitz said. "They feel a little less afraid to do it than other things that would be more obvious." 
Of the 137 students who answered the survey question "Have you ever seen anybody vaping on campus?" 45.3 percent answered "yes." Teenagers vape for a variety of reasons, according to Lindner. These reasons include peer pressure, use of drugs for emotional compensation and the ease of concealing vapes. Of the students who said they vape, 29.4 do so to calm down, 35.3 percent because their friends vape, and 35.5 percent for other reasons. Lindner emphasized that some of these factors have drawn teenagers to drugs for decades. Additionally, vapes do not look like cigarettes, allowing students to vape discreetly. 
Landy believes vaping taps into the adventurous mindset of some teenagers. 
"Adolescents are by nature risk takers. They gravitate to exciting and sometimes illegal activities.  The adolescent brain is not fully developed and they see these activities as cool and exciting without recognizing the consequences," Landy said.
Although she warns students about vaping, Landy still recognizes that students do Juul. 
Scott,* a student at JDS, vapes a few times a day. He was first exposed to vaping this past summer when his friends asked him to Juul with them; he tried it and got "hooked." Though there are times when he wishes he did not vape because he understands that it is not good for him, he said he does not feel addicted. 
"I have had times when I stopped [vaping], I could, [it's] not like I need [to vape] every second, but I thought it was better to have [a vape] than not," Scott said.  
Part of the reason Scott believes vaping is so prominent for young people today is social media and celebrities influence on it. Teenagers will see a rapper on Instagram with their Juul, and it will make them think that Juuling is the cool thing to do, according to Scott.
A vape is "nice to have" for Scott in stressful situations, he said. He has a learning disability and has struggled with depression and anxiety in the past. He said that vaping helps him alleviate stress. He acknowledges that vaping is not the best method to calm down, but it "sometimes gets the job done."
According to Scott, vaping has different effects than drugs and does not make a person high. The buzz he feels only lasts around two minutes, and even if he vapes a lot, it does not last longer than five minutes for him. 
"You just get this head rush that is very relaxing; it is like you're high, but you're not," Scott said. 
Regarding JDS' vaping culture, Scott believes it is much lower than public school students. His friends' public schools have special smoke detectors for vaping due to the higher popularity. Within his social circle at JDS, Scott finds that while a lot of his peers have tried Juuling, not as many own the e-cigarette. However, he would not recommend teenagers start vaping. 
"If I had the power to decide if someone would get involved or start vaping, I would 100 percent go against it because it's not something to be proud of or good for anyone's well-being," Scott said. 
*Name has been changed to respect the student's privacy
This story was featured in the Volume 35, Issue 6 print edition of The Lion's Tale, published on May 30, 2018.