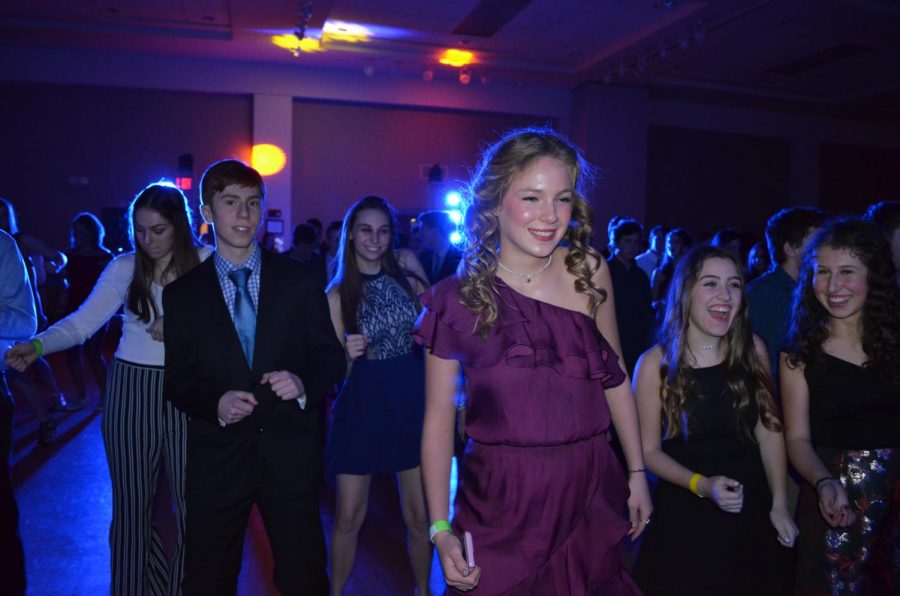 photo courtesy of Mitch Bell
Students in grades 8-11 were found dancing, posing on the red carpet and socializing on Saturday, March 3 at the first CESJDS Semi-Formal. This dance was hosted by the junior class government at Ohr Kodesh Congregation in Silver Spring, Md.
In past years, there has been an annual MORP: an informal dance open to non-seniors. This year, however, the junior class student government took it upon themselves to reinvent the night and create a casino-themed dance.
MORP has been unsuccessful in recent years, typically receiving an attendance of around 25 students per year. According to Dean of Students Roz Landy, this year's junior class is focused and organized with specific tasks, and therefore sought change within the school's tradition to better it for themselves and for future years to come. This year's event had an attendance of around 175 students.
Junior Co-President Max Stravitz oversaw the planning process that started in October and resumed in January.  Stravitz worked alongside junior Co-President Ari Gershengorn, juniors Jake Block and Daniel Morgan and junior Co-Vice Presidents Alexis Bell and Liam Shemesh in order to arrange the night while still being responsible.
"All of it was based on a certain budget that we didn't really want to go above. We didn't want to go above $1,500ish, but ended up not going over and made 100% profit on it.
The junior class government requested that all students wear semi-formal apparel, as opposed to MORP, which had a more casual theme and attire in recent years. It was ultimately a compromise because students were allowed to dress down if they desired.
"The presidents and chairs of the Semi-Formal came to me with a proposal for the Semi-Formal Dance. We agreed that it could be dressy but no tuxedos and no formal dresses for the girls.  The boys could wear a suit or a sweater and the girls could wear dressy dresses," Landy said. "The class leaders took this information and ran with it and the result was an awesome evening."
Block co-initiated the idea alongside Morgan. They pitched a spring formal-type of dance instead of MORP earlier this year to the junior class government.  After learning its benefits and how it would differ from past years' dances, the junior class government agreed on having the dance.
The venue was a deliberate decision in planning the event. In many cases, having a dance at JDS  lowers the atmosphere of the theme and contributes to lower attendance at the event, which has been evident in years past, according to Block. In addition to choosing the venue, there were many other expenses and time-consuming tasks that were necessary in order to perfect the night. Grade government booked a DJ and security, bought snacks, beverages and accessories and arranged tables for students to sit if they preferred to instead of dancing.
At Ohr Kodesh, the room was large enough to showcase tables, photobooth and more. While they initially wanted to find a cheaper synagogue, they still had not booked a venue in January and had to book at Ohr Kodesh or else they would be forced to hold it at JDS.
The decorated room shined with a dark color scheme of shades of red, black and white that related to the casino theme. In an effort to showcase the theme as much as possible, many tables featured different casino-like games that students could play throughout the course of the night.
Grade Government incentivized pre-paying for the event by offering a pre-registration price of $15, rather than the $20 that students at the door would be required to pay.
Freshman Jonathan Morris thought that the dance was well planned, as there was a DJ, snacks and beverages.
"I thought it was organized pretty well in terms of ticketing and the ability to pre-pay online," Morris said. "One concern I had was that the water ran out half way through, but obviously that is more of an afterthought."
Eighth-grader Eva Bard also thought that the dance was a fun time to socialize. She especially liked the ability to hang out with students from other grades, given that there were few eighth-graders there and that she doesn't see older students often at school.
The junior class assembled a feedback form that was sent to students who attended the semi-formal with questions about the service, promotion and any improvements, in the hopes that this event will be an annual occasion for students to look forward to.
"This is probably going to be an annual semi-formal that the junior grade government would run," Block said. "We thought it would be cool to start an annual dance, so that is probably going to happen if grade government decides that this is a good decision and follows through with it."
This story was featured in the Volume 35, Issue 5 print edition of The Lion's Tale, published on March 22, 2018.