Self-expression sticks to laptops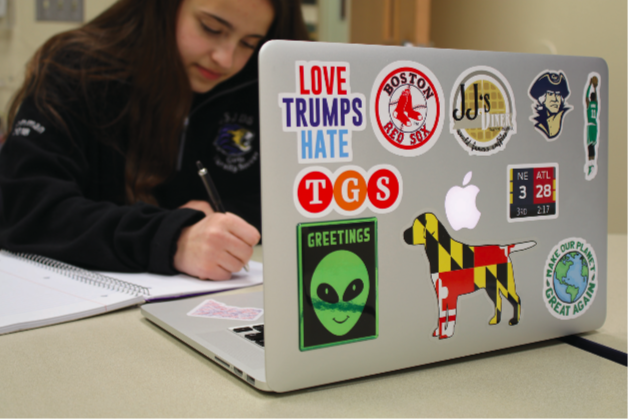 On any given school day, study hall teacher Abbe Luther sits among a class of focused high schoolers whose faces are positioned behind laptop screens, most of which are decorated with stickers.
Over the past few years, laptop stickers have emerged as one of the most popular trends among CESJDS Upper School students. Though the stickers are small, a considerable amount of thought goes into a student's choice of stickers or whether to buy them at all.
Senior Jaimin Kammerman-Fletcher purchased his own stickers after seeing many peers with them, but he then felt judged for his choices.
"I mean that's the whole reason I got my stickers, because it's a trend," Kammerman-Fletcher said. "You want to be like everyone else, and everyone else has laptop stickers, and if you don't, you're a 'loser.' I've been judged for my NFTY sticker, because it's a reform youth group, and that's not the majority at school."
According to Luther, "adolescence can be a very judgemental time in someone's life, and people can be quite insecure of how they fit in, which elevates the importance of trends."
Kammerman-Fletcher has seen stickers that promote slogans such as 'I'm With Her,' and 'Proud to be a Republican,' and feels like this avenue of expression should be allowed, but regulated to prevent any lines getting crossed.
Luther disagrees, saying that regulation is not necessary but there should be a "standard of respect."
One of the most appealing aspects of laptop stickers is the number of available designs for customers to choose. The most common place to purchase laptop stickers is Redbubble, an online database where anyone can submit their designs and graphics and sell them for a profit.
Freshman Tess Mendelson has designed and sold stickers on Red- bubble for over a year. In a time where students are constantly on the lookout for a way to make a quick buck, Mendelson thinks Redbubble is an option more teens should get involved in.
"It's an easy way to make money, and it doesn't take a lot of time or effort. A person like me on Redbubble will probably make around fifty dollars a month," Mendelson said.
But to Mendelson, creating content on Redbubble is about more than bringing in cash.
"The cool thing about Redbubble is that you think you aren't making an impact, but you're actually making a very big one," Mendelson said. "If I make a feminist sticker and I see someone who bought it, it's not just about me making money, it's them standing up for what they believe in."
Regardless of the implications of potentially "controversial" stickers, the trend remains popular. Whether stickers are seen on laptops for two years or twenty years to come, the way they've prompted students to express themselves will definitely stick at JDS.
This story was featured in the Volume 35, Issue 4 print edition of The Lion's Tale, published on January 31, 2018.