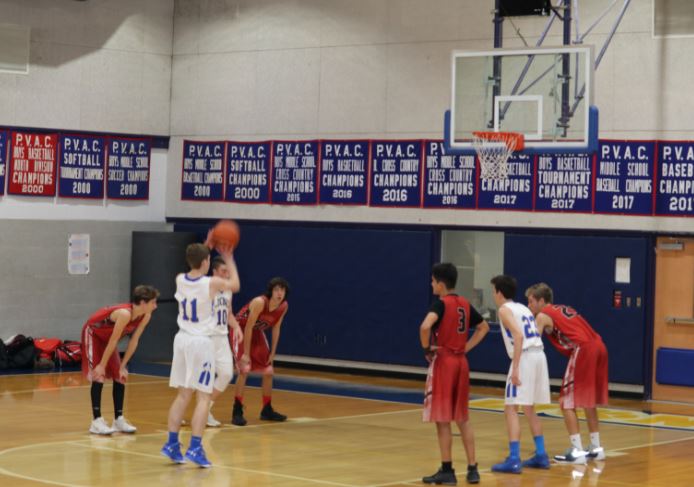 photo by Matthew Rabinowitz
The boys JV basketball team fell six points short to the Washington Waldorf Knights on Monday, with a score of 43-49.
The Lions were more cautious with the ball than the Knights in the first quarter; they made an effort to pass more before taking a shot.
The Lions gained a 2 point lead by the end of the quarter, with sophomore and team captain Zach Gross scoring 6 out of the team's first 10 points, explaining that he scored because of the effort he puts in.
"A lot of these games are not about who's better, it's about who goes for all the balls, so it's mental," Gross said. "If you put all your effort and you practice and run a lot so you're fit for the game, that's how you do it."
Throughout the second quarter, both teams struggled to make layups and three-pointers. The Lions, however, were able to maintain offensive possession of the ball more than the Knights. Going into the half the score was 23-21, with the Lions in the lead.
The game was very close in the second half and the tension was evident. Fans cheered at every repossession and shot. Within the first three minutes of the fourth quarter, the Lions had lost their lead. While the Knights tacked on 10 additional points during the quarter, the Lions only scored 3.
With only eight players, the Knights showed fatigue in the fourth quarter and committed many fouls, but the Lions only made 6 out of 11 foul shots.
With 30 seconds left, the Lions were down 47-43, but they never lost their fighting spirit. The Lions hustled but could not gain any points, leading to their loss.
Lion's coach Brian Westerman recognized the team's main issues immediately.
"So obviously rebounding was a big issue … but our biggest thing tonight was that we had 15 missed layups," Westerman said. "That equated to thirty points in a game we lost by six. That's a 24 point victory."