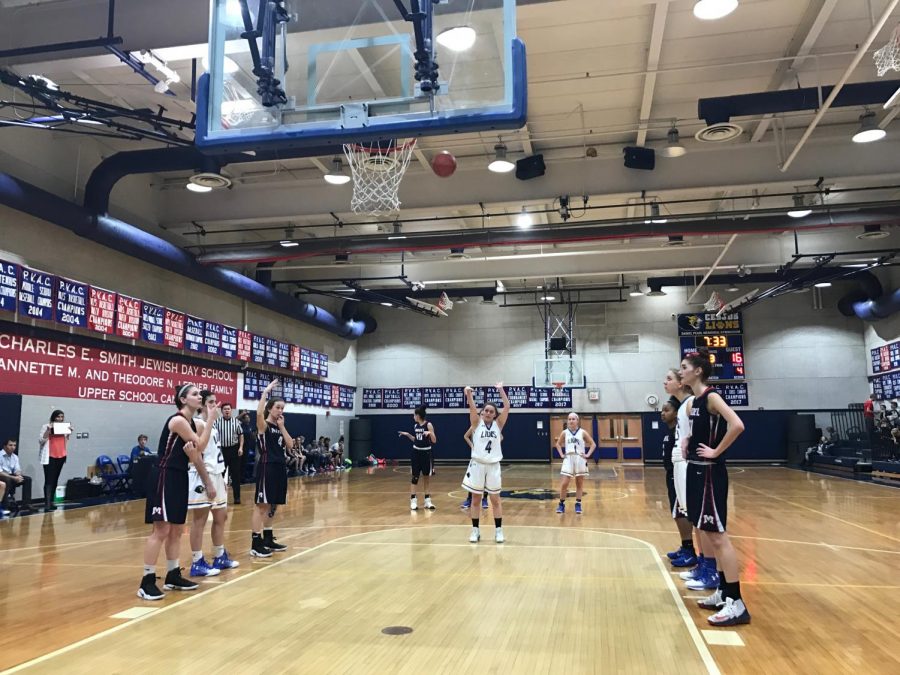 photo by Daphne Kaplan
The girls varsity basketball Lions defeated the Model Secondary School for the Deaf Eagles (MSSD) 42-24 on Wednesday afternoon. This was the Lions (3-0) third consecutive win.
Off the tip, Model jumped out to an early 2-0 lead. Throughout the first quarter, the Lions played aggressively, driving the ball back and forth down the court, eager to score the initial points of the game. The Lions came together as a team and worked cohesively. After a hard-fought half, they led 17-13.
Lions' coach Becky Silberman was pleased with her team's performance and was especially impressed with the team's ability to increase their physicality after halftime.
"I told them that the only other reason the other team was still in it was because we were letting them have it," Silberman said. "There were obviously a lot of fouls and instead of fighting and coming back harder, we spent a lot of time complaining. I told them to toughen up a little and they ultimately did better with that."
Captain and senior Brooke Cohen led the team with 16 points, while fellow captain and senior Sophie Handloff had 2 points, 4 rebounds, and 3 assists. Junior Rayna Armon landed three 3-pointers, 9 points overall, 2 rebounds and 2 assists.
Despite the difference in size, the Lions matched the Eagles intensity and aggressive attitude while trying to act bigger on the court
Even though this is the third consecutive win for the Lions, the team is still working on team chemistry. During practice and off the court, the team is working on building teamwork and working cohesively
"We are not used to playing with each other and have really come together through team lunches and big-sister little-sister and bonding has connected us a lot," Handloff said.
Prior to each game, the athletes eat lunch with one another in order to get hyped for the game. Additionally, the captains introduced a bonding activity called, "Big-Sister, Little-Sister," which pairs upperclassmen and lower classmen on the team with one another. The upperclassmen act as mentors by helping to prepare the underclassmen for the games, providing them with a familiar face on the court and giving them small gifts on a game day.
In the future, Handloff believes that as a team they need to play their hardest regardless of whether referees are making calls in their favor,
"It's not the refs game, it's our game," Handloff said.
While off the court the team is working to improve chemistry, Silberman wants to see more positivity, encouragement and communication from one another on the court during the game.
"I think we need to keep improving our attitude and communication on the court," Silberman said. "I feel that we don't talk as much, and that was evident today."