Maryland governor visits Lower School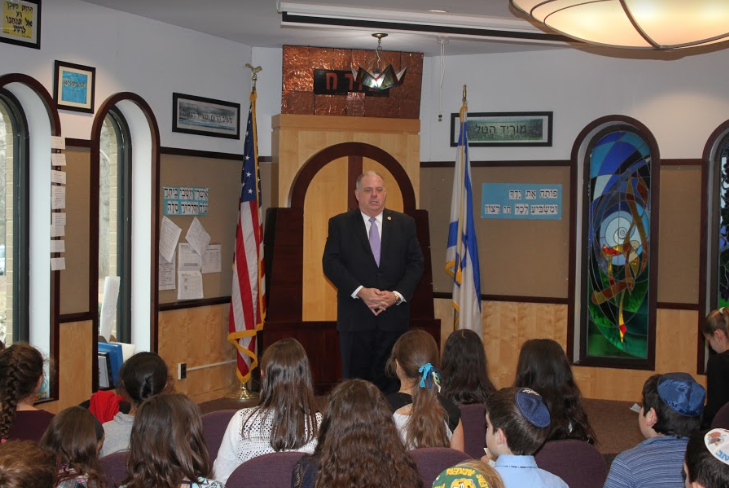 Maryland Governor Larry Hogan visited the Lower School today where he spoke to the whole school and then fielded questions from fifth-graders in a mock press conference.
Hogan is a first-term governor and has served in office since January 2015. According to Lower School Principal Rabbi Matthew Bellas, Hogan's visit was scheduled by CESJDS parent Meredith Weisel who works for The Jewish Community Relations Council of Greater Washington.
In his address to the whole student body and staff, Hogan discussed his trip to Israel this past September as part of a trade mission. Hogan's trip resulted in agreements with Israeli universities and companies to strengthen ties with their counterparts in Maryland, but he also took time to appreciate the cultural importance of the places he visited.
"Probably the most moving experience for me was we had an incredible visit to the Yad Vashem Holocaust memorial and museum and I got a chance to lay a wreath in honor of Holocaust victims," Hogan said.
Hogan also discussed the scholarship program Broadening Options and Opportunities for Students Today, which provides scholarships for students going to private schools. The program currently has a $5 million budget, and Hogan has requested an additional $5 million in the upcoming years to expand the program's benefits from the 3,000 students currently receiving aid.
After his speech, Hogan spoke to exclusively the fifth grade who will be visiting Annapolis in the spring for a field trip during which they will get to meet Hogan again. Hogan briefly talked about Maryland's colonial history, which the fifth-graders had been studying, before taking questions that the students prepared. The questions spanned a wide variety of topics, including Maryland's economy, school system and justice system.
According to fifth-grade teacher Andrea Washington, the fifth grade prepared for the governor's visit by learning about his job and responsibilities, but the questions asked were from the students' personal knowledge and interests. The fifth-graders will be learning about government later in the year, and Washington thinks that Hogan's visit will help inform her students when they begin the unit.
"[Hogan's visit] will definitely be something we can go back and use as a springboard for our students," Washington said. "They had the opportunity to meet him, and they are going to Annapolis soon, [so] having that as the anchor is definitely something that I think will be a benefit for them."
While Hogan spoke about government and education in both of his interactions with students, he only addressed the recent antisemitic acts when speaking with reporters from local news outlets. Specifically, there have been several reportings of swastikas being spray painted in middle schools, high schools, football fields and personal properties. Hogan sees these actions as hate crimes and that a key to preventing similar scenarios is to open dialogues between groups who disagree with one another.
"We absolutely do not tolerate any kind of hate crimes here in Maryland or anywhere else," Hogan said. "We think people need to find a way, even when you have strong disagreements, you need to find a way to at least respect each other and treat each other in a decent way."
Just as with fighting antisemitism, Hogan believes that a key in life is to keep persevering against obstacles. Hogan referenced his gubernatorial race as well as his fight against cancer as personal instances in which he has stood by this belief, and he wanted to leave the Lower School students with this message.
"Don't ever let anyone tell you that you can't accomplish that that you want," Hogan said. "Anything that you want to be when you grow up, anything that you do, if you set your mind to it, I know you can do it."