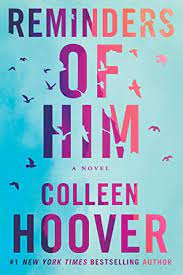 Photo courtesy of Good Reads
When deciding whether or not I should read "Reminders of Him" by Colleen Hoover, my immediate reaction was that I was going to regret it. I knew nothing about Colleen Hoover's books except for how popular they are on TikTok, so of course, I figured her writing would be overrated. Although I cannot go a day without seeing content online about her popular novels "It Ends with Us" or "Ugly Love,"  I was entirely unprepared for how skilled of an author she is.
"Reminders of Him" is a gripping, heart-wrenching novel about a mother's struggle to meet her daughter after being released from prison. Kenna, the protagonist, served five years for the involuntary manslaughter of her boyfriend, Scotty, with whom she shared a daughter, Diem. She gave birth to Diem while in prison, only to have her immediately whisked away. The novel follows Kenna's relationship with Ledger, Scotty's best friend, who serves as a father figure for Diem while Scotty's parents have custody of her.
As I read this book, I found myself immersed in the impossible moral dilemmas that the characters faced and the intensity of both their internal and external conflicts. Ledger had to weigh Kenna's understandable desire to meet her daughter against the emotional wellbeing of Scotty's parents, while Kenna grappled with her own complicity in the death of a man who she loved. This book was practically fused to my hand because I couldn't put it down.
At times, however, Hoover's writing felt sloppy. I found the exposition to be lazy because there were many information dumps. The writing might seem too blunt, but that depends on the reader's preferences.
Where the writing fell short, the character dynamics made up for it. "Reminders of Him" is a dual point of view book. This set-up added a lot of dimension to the conflict and I enjoyed both points of view equally. From the start, Hoover's attention to detail made the characters jump off the page. She vividly illustrated every detail of their humanity, from their personal history, to likes and dislikes, to the way that they cope with their pain. The characterization is clear, nuanced and sympathetic. 
At first, the romance felt forced to me, but as time progressed, it became more realistic and engaging. When Kenna and Ledger met, they were immediately attracted to each other, which felt too easy. For several chapters, I couldn't understand why they had romantic feelings for each other. However, soon after, Hoover pulled it together and the romance felt more real than most romance novels that I have read. After they learned more after each other and developed a deeper connection, Kenna and Ledger had undeniable chemistry. Their emotions toward one another, whether positive or negative, were always justified. They seemed like a couple who could exist in real life, and definitely one that I would root for.
This book dove straight into the action, and it only took about 30 pages for me to become addicted to it. As I read the middle, I felt like I was continuously holding my breath because of the suspense. However, I did feel that the end fell flat in comparison to the rest of the book. It was a satisfying ending, but it felt like it was missing something, perhaps the intensity that made me love this book so much.
I would highly recommend "Reminders of Him" to anyone looking for a devastating yet heartwarming romance novel. It depicts the characters' backstories realistically, even though the writing could be sloppy at times. This book is perfect for fans of "The Fault in Our Stars," by John Green and "Just Listen," by Sarah Dessen.